Wherever it is – on your legs, underarms, face or bikini area – visible hair in any of these places is never a welcome sight! Whether you're getting ready for a tropical vacation to escape our cold winter, preparing to don your favourite summer outfit or just looking to remove hair from a specific zone, there are many hair removal options open to you!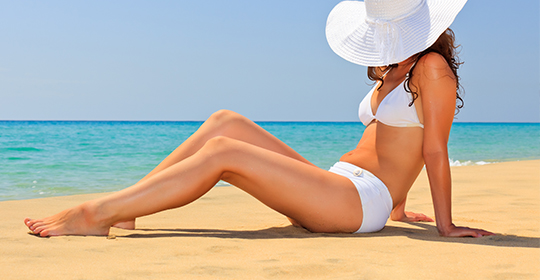 Which method should I choose?
Shaving 
Pro
•    A convenient, easy, painless method that takes little time and can be done almost anywhere! 
Cons
•    Shaving can be irritating for skin .
•    It needs to be done often since hair is cut at the surface of the skin, leaving the bulb intact. 
•    Hair grows back coarser and darker and tends to get stronger over time. 
Tips and tricks
•    Exfoliate skin before shaving.
•    Always shave in the direction of hair growth.
•    Warm the razor blade under hot water.
•    Use a good quality razor and cream or gel made for this purpose. 
•    If using a reusable razor, change the blade every 8 weeks.
•    Electric razors are a good option.
 
Depilatory creams
Pros
•    A convenient, fast, easy and completely pain free method that removes hair effectively.
•    Hair re-growth is not as coarse as with shaving, but still remains relatively strong.
Con
•    Hair grows back quickly, after about 3 to 5 days.
Tip
•    You should always test the depilatory cream on your skin before using; sensitive skin can react to the chemicals it contains. 
 
Waxing 
Pros
•    This method is more gentle for skin.
•    The hair and bulb are removed.
•    Hair grows back softer and more slowly, after 3 to 4 weeks.
•    Hair becomes finer over time.
Con
•    Requires more time and skill than shaving.
 Tips and tricks
•    It is preferable to exfoliate before waxing in order to avoid ingrown hairs. 
•    For best results, waxing should be done when hair is at least 3 mm. 
 
Sugaring 
Not quite as well known, this method involves applying a completely natural paste made with sugar, honey and lemon, among others.
Pros
•    It's a very gentle method suited to every skin type. 
•    The paste exfoliates skin as hair is removed. 
•    It considerably reduces amount of hair over time and makes new growth very soft.
•    Hair grows back only after 4 to 5 weeks. 
Con
•    This method can lead to ingrown hairs over time.
Technique
•    The paste is heated, cooled then formed into a ball, which is rolled on the area to be treated; hair is uprooted from its follicle when it sticks to the paste.
Pharmacy services
At the Uniprix Boutique Beauté, you will find all the products you need for perfect do-it-yourself hair removal. Drop by for a visit!
Looking for more helpful health and beauty tips? Interested in receiving special offers? Click here and sign up for our newsletter today.