Once reserved for adventures in the bush or a family camping trip, dry shampoo has not always enjoyed good press. But times have changed, and it has now become a trendy essential in the arsenal of hair care products.
When to use
Fast and simple to use, this versatile product can be a great ally in many situations.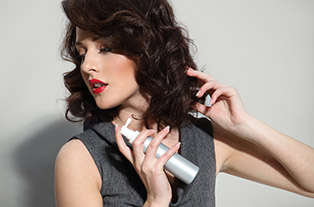 Here are a few examples:
• Serves as a quick fix on hectic mornings, before cocktail hour or on a camping trip
• Refreshes your hair in-between shampoos
• Works wonders if you cannot shower (e.g. after surgery) or if you do not have access to water
• Freshens oily bangs
• Helps updos stay in place
• Adds volume and texture to your locks
Dry shampoo contains cornstarch, oat or rice powder, among other ingredients, which are meant to absorb oil present on the scalp. Results will last anywhere from a few to 48 hours, depending on your hair type.
Since it does not actually wash hair, dry shampoo is not a substitute for traditional shampoo. It is, however, a convenient alternative.
How to use
Dry shampoo is so easy to use you will not need a single lesson! Instructions vary slightly from one manufacturer to the next, but generally speaking, here is how to use it. Start by covering your shoulders with a towel and brushing your hair, then:
• Vigorously shake the bottle
• Spray on hair, strand by strand, toward the root, about 20 cm away
• Massage into hair with your fingertips to spread the product evenly
• Leave in for a few minutes
• Brush hair well to eliminate all traces of product
• Style as usual
As is often the case, less is more. Better to start with a small amount of product and add more, bit by bit, than use too much and have to rinse it out with water.
Pharmacy services
Has dry shampoo caught your attention? Drop in to one of our sales locations and ask your beauty consultant for information on the various options available.