Everyone agrees that
ultraviolet rays
are harmful to skin.  Fortunately, there are simple, effective ways to tan without the sun or the mess!
Self-tanners 101: No sun, no mess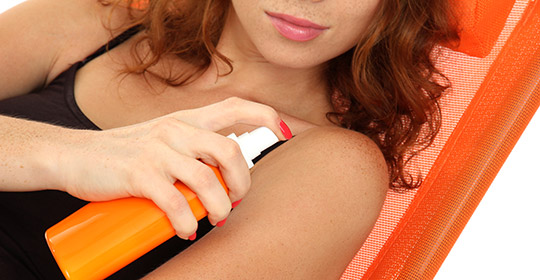 You'll find on store shelves a wide range of self-tanning products in various forms, such as:
gels
lotions
mousses
sprays
wipes
The type of product you choose is actually not that important. Just select the one that suits you best, based on texture, application method, wait time, anticipated results and so on.

If this is your first time using a self-tanner, go for something that is slightly tinted. This allows you to see where you have applied the product.  
Steps to follow
Choose a shade close to your natural colouring.
Self-tanners normally come in three shades: fair, medium and dark. Not sure which one you need? Talk to your Uniprix beauty consultant.
Exfoliate your skin.
To get even, streak-free results, you need to start by removing the dead cells from the surface of your skin. Focus on your feet, knees and elbows.
Proceed with application, one area at a time.
For example, start with your feet; move to your ankles and upwards towards your thighs. Make sure you get a nice, even finish from one zone to the next! And don't try to cover your entire body at one time by filling up your palms with product. That just spells a big mess! Instead, take your time, place a small amount of tanner in your hand, and repeat. Tip from the pros: Blend well along your hairline, around your eyebrows and on your ears.
Wash your hands.
Remember to scrub between your fingers, on your knuckles and under your nails.
Wait 15 minutes before getting dressed.
Don't get dressed right away, even if the product packaging claims you can.
At the beginning, you will need to repeat the operation two or three times a week, until you obtain the glow you're looking for. You can then preserve the results with weekly applications.  
Pharmacy services
Need help choosing the product that will work best for you? Talk to one of our
beauty consultants
: she can point you in the right direction.