No makeup bag is complete without lip liner. It's a precision tool that delivers a host of benefits. So go ahead and use it often. Your lips will thank you!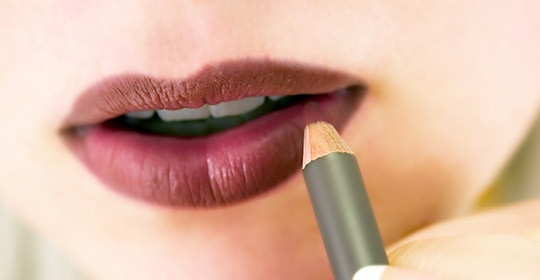 Why use it?
It takes only minutes to apply – if that – and ensures beautiful, professional results. Lip liner is great for:
defining lips and correcting small flaws in the lip line;
adding volume;
preventing lipstick (or lip gloss) from bleeding or feathering into the corners or surrounding fine lines;
enhancing the hold of lipstick.
How to choose it
Never use a liner darker than your lipstick; that fashion ship has sailed! While lip liner in a subtle hue may go practically unnoticed, it still takes top honours when it comes to elegance. Be sure to choose a lip liner that is:
the same colour as your lips, or;
the same shade as your lipstick, or;
clear.
Tip from the pros
Avoid lip liners that are too dry or too creamy. A dry pencil won't glide well over your lips and an overly creamy one will let your lipstick bleed and feather.
How to use it
Before applying any makeup to your lips, you need to do some prep work, which includes exfoliating and moisturizing them. Then, using a well-sharpened pencil, trace the contour of your mouth with small, rounded strokes, following these steps:
Begin at the V in the centre of your top lip;
Then trace the edge along the centre of your bottom lip;
Continue lining the upper and lower lips to the corners.
Quick tips
To maximize your lipstick's staying power, you can:
apply a touch of foundation or translucent powder to your lips;
colour the entire lip area with the lip liner;
use a brush to apply your lipstick.
Pharmacy services
Visit your Uniprix Boutique Beauté to find the lip liner that best suits your lips and style.