Is your prom just around the corner? You've found the gown of your dreams and the shoes to match. Now it's time to plan your makeup, nail polish and cosmetic kit for the big night. Here's a guide to help you get set.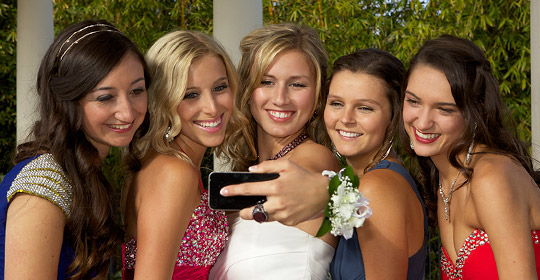 Makeup: Should you play it up or down?
When it comes to makeup and accessories, prom is the perfect time to cut loose and dare a little – or a lot! Let the latest trends be your inspiration:
Eye shadow: Neutral works, but so does bold! Popular hues include pink, blue and metallic shades. Gold, silver and copper are your best bets.
Lipstick: Deep, intense colours are all the rage. Try one!  
Nail polish: Both pastels and splashy shades are in vogue.  The choice is yours!
Quick tip
You don't need to wear the same shade of polish on your toes and fingers. Just make sure they pair well. Great combos include orangey red with denim blue; light pink with beige; opal with coffee; or lavender with cobalt blue.
Picture perfect makeup
Here are a few runway-inspired looks to consider:
The smokey eye is as hot as ever, especially for a big night like prom. Go for the traditional black or try a different colour.
The porcelain doll. Thick, long, full lashes thanks to a good mascara or false eyelashes, eyeliner applied to the outer corner of the eye paired with a flawless complexion and lips in a dark shade.
The dancing queen. Metallic eye shadow (silver, gold or copper) swept over the eyelid and just beyond the outer corner of the eye combined with eyeliner and a bit of mascara.
Hair can be up, down or somewhere in between for a modern look with a touch of romance.
The final countdown
Four weeks before the big day:
Think about your hairstyle and makeup. If you plan on doing both yourself, make sure you practise a few times. If not, book your appointments now.
Take great care of your skin. Time to exfoliate and moisturize!
Get a gorgeous sunless tan.
The week before:
Drop by a Uniprix Boutique Beauté for all your last-minute makeup and hairstyle needs. This way, you'll have everything in hand when the time comes.
Don't forget about hair removal! Eyebrows, legs and underarms. If you shave, just wait for prom day. If you wax, do it a few days in advance to avoid any unsightly redness.
For your manicure and pedicure, wait until the day before. To keep your polish from chipping, why not try a DIY gel manicure?
On prom day itself…take a deep breath because everything is under control!
Packing the beauty basics
To keep your complexion glowing and your makeup flawless all night long, you need to pack a beauty kit with all the right products.
Prom night essentials
Travel-size mirror
Lip liner and lipstick or gloss
Eyeliner
Pressed powder
Facial tissues (to dry your tears of joy)
The extras
Eyelash glue
Nail file or glue for artificial nails
Purse-size fragrance
Purse-size hairspray
Bobby pins
Adhesive bandages (for blisters)
Travel-size deodorant
Chewing gum
Pharmacy services
Did you know that many Uniprix beauty consultants offer makeup consultation services and makeup sessions?
You can book an appointment a few days or weeks before your prom to obtain personalized advice and select the cosmetics that will suit your needs. Your Uniprix Boutique Beauté also features a great lineup of trendy accessories. Drop in for a visit!