Switching perfumes when a new season comes around sounds fun, doesn't it? Perhaps once in the winter and again in the summer? For many women, a change of season is the perfect excuse to adopt a new scent. That's why many big names in fragrance offer summer versions of their products. Discover why you should try the flirty scents of the solstice!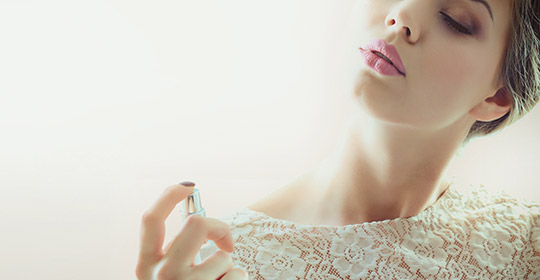 Easy, breezy fragrant waters, mists and oils!
In the summer, heat, humidity and UV rays can alter your regular perfume, irritate your skin and cause staining. A fragrance that was once captivating can soon become overpowering, and even lead to migraines in some women.
So as the mercury rises, the time is ripe to go for lighter alternatives to the classic perfume or eau de parfum. Some of your options include: 
Eau de toilette
Eau de Cologne
Light, refreshing and invigorating fragrant waters 
Moisturizing fragrant mists
Nourishing dry oils with a relaxing air of summer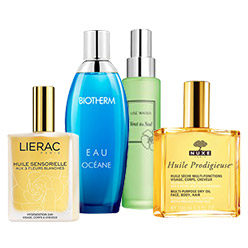 Quick tip!
Spray your fragrant water onto your hair and clothing to avoid skin reactions that can result from the alcohol in perfume being exposed to sunlight.
Summer is also the perfect time to use solid perfumes – also known as concretes. These compact scented balms are alcohol-free and release a subtle, lasting scent.
Fresh notes of spring in the summer! 
Generally speaking, winter scents are heady, full-bodied, vibrant and warm, making us feel cozy as the cold weather hits. Come summer, it's time to trade them in for aromas with airy, light, sparkling and invigorating notes. 
Summer fragrances are actually often inspired by springtime freshness, rather than by the poolside season itself and are part of these olfactive families: 
Floral
Fruity and citrus
Woody and fresh
Marine and aquatic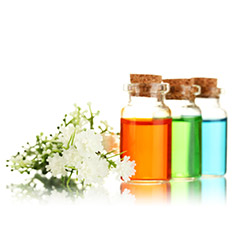 More specifically, here are some of the aromas you'll detect at the perfume counter this season: 
Jasmine, rose, magnolia, lily-of-the-valley, violet, orange blossom, white flower
Vanilla, bergamot and other citrus fruit, Tonka bean, peach, apricot, red berries 
Citrus, mint, fig tree, ambergris, sandalwood, white wood 
Seaweed, sea salt, lotus

Pharmacy services
To learn more about summer fragrances and other scents, talk to your beauty consultant!
Looking for more helpful health and beauty tips? Interested in receiving special offers? Click here and sign up for our newsletter today.