To listen to one's head or to one's heart? Time and again, women are faced with this eternal dilemma…except when it comes to fragrances, a universe where the head and heart aren't necessarily polar opposites! In fact, head, heart and bottom notes come together in a harmonious blend. All you have to do is find the combination of scents that suits you best and inspires you most.
How does a fragrance evolve during the day?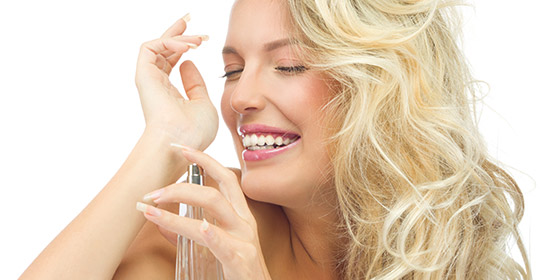 You have no doubt noticed that the multiple scents exuded by your new perfume change throughout the day. This is what's known as the olfactive pyramid. It defines the structure of a fragrance and the notes we perceive as it evolves.
Depending on the ingredients contained in the fragrance, certain more persistent aromas will last longer, while other, more volatile ones will dissipate.
Head/top notes
Short-lived, fleeting and light, head notes are first on the scene. They are generally fresh and vibrant, making the first olfactive impression. This note is the most difficult to create and is often the one that will seal the deal with a potential buyer. It's always a good idea to wait until you experience the heart notes before you make your final decision about a fragrance. The raw materials usually come from lemon, bergamot, orange, neroli, etc.
Lifespan of head notes: they begin upon application and last for a maximum of 30 minutes. The head notes are what you'll rediscover when you pull out the Pashmina sweater you wore weeks ago. They permeate natural fibres, such as wool, linen and cotton, but in the absence of body heat, they do not give way to heart notes.
Heart/middle notes
Less intense, but more tenacious, heart notes come to life when the head notes fade. It is the core of the fragrance, giving it its originality and olfactive signature.
Lifespan of heart notes: they last for 4 to 6 hours after the head notes.
Bottom/base notes
The ingredients of this note are less concentrated, yet longer lived. Bottoms notes are probably what determine a wearer's attachment and loyalty to a given fragrance. The raw materials making up this note are:
spices (cinnamon, cloves, nutmeg, saffron);
woody material (sandalwood, patchouli, cedar, vetiver);
Oriental material (amber);
gourmet material (caramel, chocolate, vanilla, coffee);
musk (white musk);
leather (birch, Russian leather).
Lifespan of bottom notes: they begin about five hours after application and can linger on the skin until the next day.
Pharmacy Service
If you need advice on choosing a fragrance, just talk to one of our beauty consultants at your local Uniprix sales location.