Want to know how to look refreshed instantly? Just add a touch of mascara! It's an easy, foolproof way to brighten up your eyes in a jiffy. All you need to do is choose the product that will give you the results you're looking for – thick, well-defined lashes.
The right technique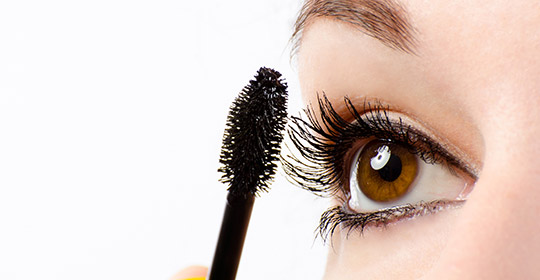 Here's a simple trick from the pros. Apply mascara with a light zigzag motion, starting from the root of your lashes. In other words, use a to-and-fro or up-and-down movement. This technique helps to:
coat,
separate and
define
each lash for maximum effect. Repeat, this time focusing on the outer edges. For a more natural look, leave the lower lashes bare.
The right product
Each mascara has its own special feature:
Mascara can thicken,
add volume,
lengthen,
curve,
define and,
yes, even vibrate!
You'll find a wide variety of products, some which can lengthen lashes by 50 percent, others that can curve them at a 45 degree angle, to name just two. There's even an oscillating mascara to recreate the zigzag motion. At a glance, this might seem like nothing more than marketing. But just try a few different products and you'll see the difference. What's most important? Mascara that won't clump!
Waterproof or water-soluble mascara? If you're physically active and have a good makeup remover, preferably an oil-based one, go for waterproof mascara. Otherwise, use a washable product. It gives great results, but comes off easily.
The right colour
If you have blue eyes: indulge in black, blue or plum.
If you have brown eyes: this eye colour suits the widest number of shades – try black, brown, green, plum or blue.
If you have green eyes: choose black, green or plum.
If you have very dark brown eyes: black or plum is a great choice for you.
Quick tip! Plum mascara is perfect for bringing out the green in your eyes, but also the red. Not recommended if you have bloodshot eyes!
The right intensity
For intense results, apply coloured mascara from the root to the tip. For a more discrete look, use black mascara on the length of your lashes, adding a touch of colour to the tips, for a stunning effect, every time!
Pharmacy Service
Your Uniprix offers a wide selection of mascara. But that's not all. There's also a beauty consultant standing by if you need help making your way through all these products. Talk to her today!