Eliminate all unnecessary sources of worry
Without fully realizing it, small details can prevent us from being relaxed during bath time with the kids. You might want to consider buying a non-slip mat or installing faucet protectors to prevent burns. This will give you greater peace of mind.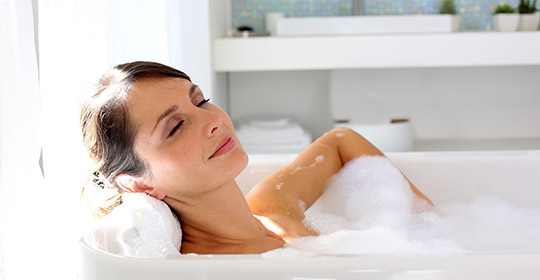 All aboard for extraordinary fun 
Go fish! – The bath is no longer just a tub, but a lake where your child can catch a variety of objects you have dropped in the water:
soaps,
sponges in various shapes and colours,
bath pearls,
blocks,
etc.
Shower them with bubbles – Make them hunt around the bottom of the bathtub to discover which objects are hidden beneath the thick layer of bubbles.
Make like Jacques Cousteau – If your kids are afraid to get soap or water in their eyes, take the sting out of the whole experience by getting them to wear swimming goggles.
Raindrops keep falling on my head – With a watering can or perforated plastic container, pour water over your child's head, as if it were an April shower.
Splashy art – Buy paint and crayons specially designed for use in the tub.
The calm after the fun
Since bath time is often part of the bedtime routine, it is very important to follow with a bit of downtime. A massage for Baby is always a great solution, especially when there is such a wide array of massage oils and soothing relaxing creams available at your local Uniprix. Then it's story time, sweet dreams and goodnight moon!
Pharmacy Service
For bath accessories and products, visit the Uniprix store nearest you today. And don't forget to have fun!