Creating gorgeous makeup for black or dark complexions is super easy and really fun! In this second article of a two-part series, we present a few simple application tips that will give you beautiful, professional results.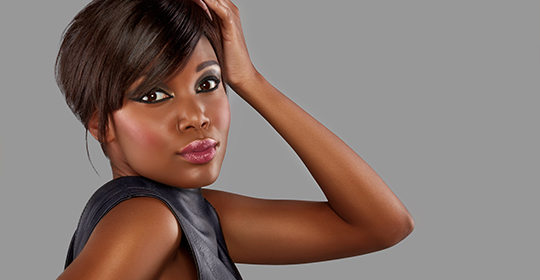 Looking for makeup ideas for a flattering day look or a sophisticated evening look? Here is valuable advice that will help you get it right and express your full creative spirit. Grab your brushes and get ready to look fantastic!
Eyebrow definition
Eyebrow makeup does wonders for women with black or dark complexions. Well-defined brows will automatically bring out your eyes and frame your face. The following technique will produce a powerful, high-impact effect!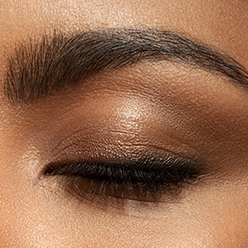 Start by brushing your brows to shape them well. Then, apply brown or dark brown liner, adjusting the intensity of your line based on the desired effect.
What to avoid
Black eyebrow liner. It will harden your features.
Blush
When it comes to blush, there is a full array of colours suitable for darker skin tones. Whether luminous or neutral, blush will add beautiful contrast to black and dark complexions or deliver a very natural effect, as long as the product used contains the right level of pigment. Blush is great for illuminating and structuring. Hints of orange or candy pink give great results. Earth tones, which are enriched with a coppery undertone, are also wonderful for adding lovely, natural luminosity to skin.
Application is easy: just use a brush to sweep the blush over your cheeks, moving toward the temples.
What to avoid
Tones of brown. They will wash out the glow of your makeup.  
Eye makeup  
Eye makeup involves three steps: eye shadow, Khol liner and mascara.
Eye shadow
Here again, there is a wide selection of shades that combine well with black and dark complexions. The right pick will really bring out your iris. And it's the quantity of pigment contained in the product that will give you the effect you want. Remember that darker skin tones more readily absorb makeup, whether it's foundation, blush or eye shadow.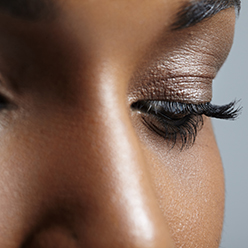 Here's a great colour combo that will make your eyes stand out. Start by sweeping brown eye shadow over your entire lid. Follow with a darker shade of brown (e.g. chocolate ) along the crease.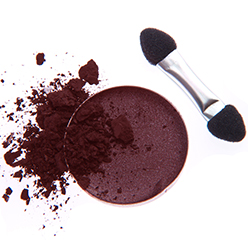 Khol liner and mascara
Black is the perfect shade of eyeliner for the eye contour. It will also blend well with the browns selected for the eye shadow. To bring out the shape of your eyes, apply the Kohl liner along the upper lash line, flicking it slightly upward to minimize the look of droopiness. You can also use this pencil along the waterline.
Black mascara pairs well with the black liner. Plus, it lengthens and thickens lashes.
What to avoid
Eye shadows with low pigment levels.
Lips
Another special feature of black and dark complexions is that the upper and lower lips can be of different colours. To even out two-toned lips, you simply apply to the lighter-coloured lip the concealer used on the rest of the face.
As for your choice of shades, there are many options to choose from, but subtle reds and coppery hues are particularly well suited to darker skin..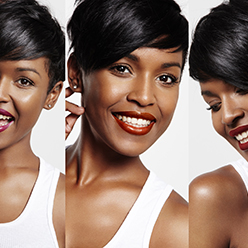 Lip liner can also be a valuable ally to keep gloss and lipstick from bleeding. Use it to draw your lip contour: apply it inside your lip line to make your lips look smaller or outside for a plumper-looking pout. Plum and brown are your best bets.
It's always important to keep your lips well moisturized. Lip gloss is extremely useful in this respect, since it both hydrates and gives you the shine you want.
What to avoid
Black lip liner. It creates a harsh effect.
Nails
To round out your look, there's nothing lovelier than a splash of colour on your fingernails and toenails. For this final touch, bright, radiant colours are the perfect complement to black or dark complexions.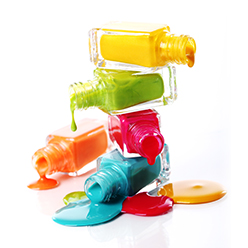 There are various styles, combinations and finishes available. Discover all the secrets to great nails in this article.
What to avoid
Lack of creativity!
Pharmacy services
Drop by for a visit with your beauty consultant. She'll be glad to show you the cosmetics made specifically for your skin tone.