Creating a flattering makeup look for black or dark complexions does not have to be a complicated affair. With a bit of basic knowledge and a few simple application tips, you can easily obtain a flawless, professional end result.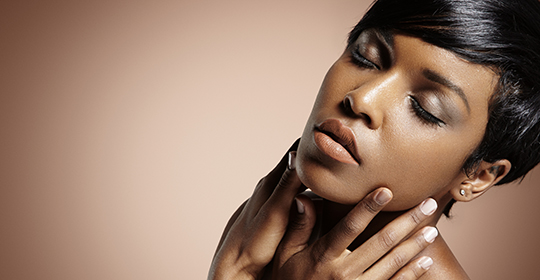 In this first article of a two-part series dedicated to makeup for black and dark complexions, we begin by presenting the number one rule for a remarkable finish: properly prepping your skin.  
How to prep your skin for makeup
When creating any makeup look, one of the most important steps is always to prep your skin well before your start. This rule goes for women of all skin tones.
Moisturize and mattify your skin
Start by moisturizing your face every day with a mattifying moisturizer. Darker skin tends to be slightly oilier and shinier, or at times, dry. The look of your makeup will be much improved if your skin is matte and well hydrated. Pay special attention to the T zone (forehead, nose and chin), which generally has more shine.
Exfoliate
You also want to gently exfoliate your skin two to three times a week. Making this part of your regular routine will not only leave your skin looking radiant, it will also minimize the ashen appearance that darker skin tones can sometimes develop. Cell turnover in dark skin is faster than in lighter skin and exfoliation on a regular basis removes that build up of dead cells. The result is fresh, glowing and luminous skin.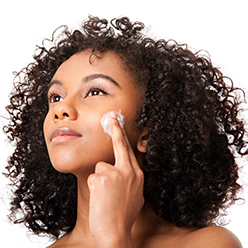 What to avoid!
The wrong products to fight imperfections. They tend to leave permanent marks on black and dark complexions.
Choosing the right foundation and applying it correctly
It may seem obvious, but you would be surprised how often people overlook or misunderstand just how important foundation really is. Once your skin is well hydrated and exfoliated, the right foundation will bring out its full beauty. Your complexion will look radiant, even and free of small imperfections. And that's what we want our makeup to do, right?
So how do you choose the right product? Here are a few tips to consider. But remember that you can always try out a few shades and textures before selecting the ones you like best.
Colour
For your foundation, you'll want to choose a colour that matches or is slightly lighter than your own complexion. To do so, simply apply a bit of product to your cheek, wait a few minutes to make sure it penetrates your skin and examine the results under good lighting. Do not test foundation on the back of your wrist, since it is not the same colour as your face.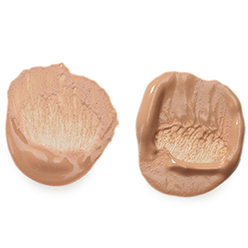 For great results, look for products that are rich in pigments. Darker skin tends to absorb makeup faster and high-pigment products will preserve the even finish of your complexion for a longer period of time.
Application
After priming your skin with a mattifying moisturizer, simply use your fingers to apply your foundation. This technique will deliver a great, natural finish on well-hydrated skin. Applying foundation with a damp sponge is another good option that will leave skin looking natural.
What to avoid!
Shades darker than your own skin tone, poorly moisturized skin and excess oil, which causes shine on the forehead, nose and chin.
You're now ready for the next step of your beauty routine. In the second article of this series, you will learn how to make up your eyes, eyebrows and lips for a gorgeous, luminous finish
Read the second article here.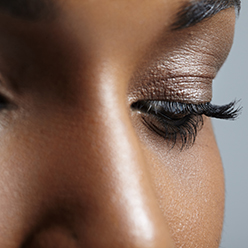 Pharmacy services
There are many products designed to enhance the beauty of black and dark complexions. For more information, come and meet your beauty consultant. She'll be more than happy to help you select the products that will suit you best.