Let's face it: most of us are in the habit of keeping our lipstick, eye shadow and other cosmetics long past their expiry dates! Yet this can lead to infections and other nasty little problems, like pink eye, dermatitis, blemishes, rashes and allergic reactions, to name just a few!
Here are some useful guidelines to help you better understand how long you should be keeping your cosmetics.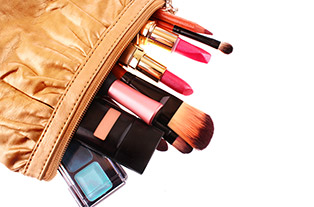 Lifespan of various cosmetics
The recommended lifespan of products is generally indicated on the packaging with a symbol (a small jar with a half-opened lid), a number (number of months it will last after being opened) and a capital "M" (for "month"); for example, 6M, 12M, 18M, etc.
Here is the average lifespan of various products (once opened):
Mascara: 3 to 6 months
Liners (for lips or eyes, liquid liners): Max. 1 year
Lip balms, gloss and lipstick: Max. 1 year
Liquid foundation, cream foundation: Max. 1 year
Powder foundation: 1 to 1½ years
Eye shadow, blush: 1 to 2 years
Concealer: 1 to 2 years
Good to know! Don't just look at the product's expiry date and lifespan. Also consider:
its smell
its colour
its texture
If, for any reason (contact with heat or humidity, etc.), the smell, colour or texture of a product has changed or if it looks off, just throw it out.
Guidelines for storing makeup
How and where you store your makeup products also has an impact on their lifespan. If you want them to last for a long time, follow these tips:
Do not expose them to heat, light or humidity (never store them in the bathroom; don't leave them in your car or in a beach bag on a hot summer's day!)
Never loan your products, not even to your sister or your best friend!
Use them hygienically (on a clean counter, with freshly washed hands, etc.).
Pharmacy services
For valuable advice on storing cosmetics, talk to a Uniprix beauty consultant. She's an expert in this area!