We've long known that tea – whether green, white or black – can do wonders for our skin. But have you heard of Labrador Tea?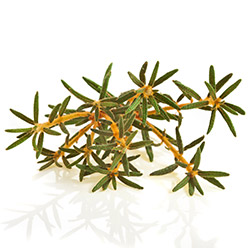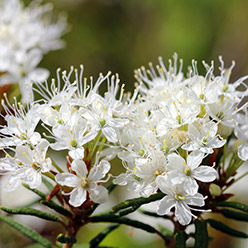 Labrador Tea: The most powerful antioxidant
For ages, Native Americans have valued Labrador Tea (or Ledum Groenlandicum) for its therapeutic properties, using it to heal burns and treat chapped or inflamed skin. Weathering the harsh Canadian climate and its extreme temperature fluctuations, this adaptable bush keeps its leaves year round.
After years of hard work, researchers at the Université du Québec à Chicoutimi have developed a proprietary process to extract the exceptional anti-aging properties of this plant. Labrador Tea is rich in:
Antioxidants (flavonoids, phenols) to fight the appearance of lines and wrinkles
Ursolic acid to preserve the elasticity of skin
The UQAC researchers also demonstrated the superior antioxidant power of Labrador Tea compared to many other cosmetic ingredients. It was found to be:
20 times more powerful than idebenone (an analogue of coenzyme Q10)
3 times more active than vitamin C and grape seed extract
Given its potency, it should come as no surprise that it can now be found in many high-end anti-aging products.
Old wives' tales that work
We've all heard of and probably even tried the age-old teabag trick to minimize under-eye circles, bags and puffiness. You simply place two teabags (lukewarm or cooled in the fridge) over your eyes for 10 to 15 minutes. The tea quickly soothes and relieves swelling, leaving you looking refreshed.
If you have a nasty pimple, you can also apply a moistened teabag to it before going to bed. Keep it in place with an adhesive bandage and let it work its magic overnight. The tea's astringent and anti-bacterial properties will have that blemish beat in no time.
Pharmacy services
Discover the Lise Watier range of products containing Labrador tea in participating stores! Speak with a Uniprix beauty consultant for more information and answers to any questions you may have.
Looking for more helpful health and beauty tips? Interested in receiving special offers? Click here and sign up for our newsletter today!