When it comes to creating well-defined brows, fixing a bad wax job, bringing attention to your eyes or framing your facial features, eyebrow makeup is a must. Here is some basic information you need to achieve brows that wow! 
Which product? Which colour? 
The cosmetics aisle features several eyebrow makeup  options, including:
Eyebrow pencils, great for sparse brows 
Eyebrow wax and powder duo, ideal for very fine brows 
Eyebrow gel, clear or tinted,  perfect to tame unruly brows and set your makeup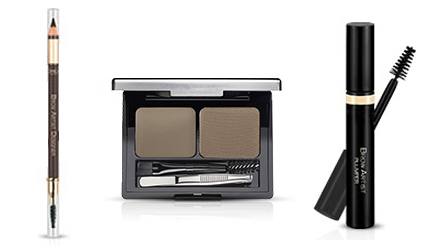 Use one or the other, or all three, depending on the look you want. 
As for the colour of your eyebrow makeup, it is important to choose one that matches your hair colour. You can afford to go one shade darker, but never lighter! For instance: 
If you have blonde or light chestnut brown hair, use light brown tones 
For dark chestnut brown or brown hair, use medium or dark brown tones, and avoid undertones of copper and red, which tend to make eyes look red
The colour taupe is suitable for all hair colours. 
If you have black or very thick brows, simply brush them (in the direction of hair growth) and tame them with some clear eyebrow gel. 
Eyebrow makeup: The basics
Before you begin, take a few minutes to make sure the length and arch of your eyebrows are properly defined. 
A. Line up the inside edge of your brow with the outer corner of your nose.
B. Line up the arch of your brow with the outside edge of your pupil. 
C. Line up the outer edge of your brow with the outer corner of your eye. 
D. Line up points A and D.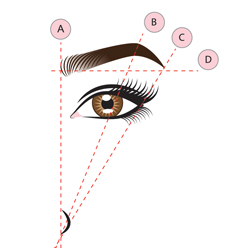 Remove any stray hairs from the defined area. Once you have completed this step, you can proceed with the application of your eyebrow makeup.
1. Brush your brows upward to see the areas that need to be filled. With a very fine-tipped pencil, draw a line along the bottom of your brow, using small, hair-like strokes.
2. Brush brows downward and draw a line as described in step 1, but this time along the top of your brow. 
3. Fill in the middle of your brow. Brush in the direction of hair growth to blend in pencil marks and obtain a natural result. 
4. Fill in any sparse areas using an angled brush and eyebrow shadow or matte eye shadow. 
5. Set the makeup with clear or tinted eyebrow gel.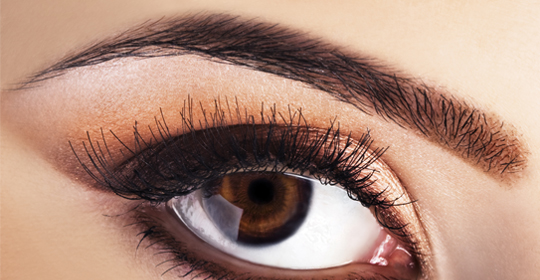 6. Finally, you can add a touch of light along your brow line using an illuminator, for a guaranteed lift effect! 
Pharmacy services
Drop by and speak with your beauty consultant. She will be more than happy to show you the products you will need to create gorgeous brows. 
Looking for more helpful health and beauty tips? Interested in receiving special offers? Click here and sign up for our newsletter today.