How to choose the right mascara?
How to choose the right mascara
Mascara is the ultimate go-to cosmetic! It can add drama to a glamorous look, bring out your eyes when you're tired or even be your one-step makeup routine on busy days. Here are some tips on choosing the perfect product for you.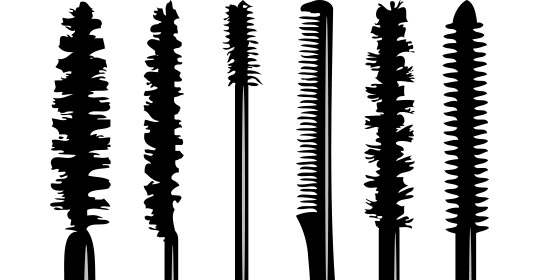 Selection criteria
You'll find dozens and dozens of mascaras lining the shelves of cosmetic departments. Before heading out to the store, why not take a few moments to make the hunt a little easier by targeting your specific needs.
Black or coloured mascara?
Black is a safe bet, always popular and super versatile! It suits all women, brings out your iris colour and makes the white of your eye look whiter.
Brown is a good choice for redheads, blondes and women looking for a more natural effect.
Coloured and glitter mascara is perfect for adding a special pop of colour or an instant touch of chic to your look.
Brushes and formulas for the effect you want!
The classics
A long, thin brush with fine, short bristles and a lengthening formula is recommended for those with short lashes and hooded or droopy eyelids. Lengthening mascara makes eyes look bigger.
A thick, round brush with compact bristles and a volumizing formula is great for women with fine, sparse lashes. This mascara amplifies lashes, making them look fuller and thicker.
A curved brush with a curving formula is suited to those who have straight or short lashes. It opens up the eye.
With its tapered brush and moderately spaced bristles, defining mascara highlights eyes without adding too much product; perfect for women who enjoy the natural look.
Then there is waterproof mascara. Available in most of the formulas described above, it is a great choice for summer holidays and sporting activities, but also for women who tend to get teary or have watery eyes.
And of course there are the many varieties of innovative brushes: double, XXL, falsies, triple plump, bristled ball, with a comb, hybrids and so on. You can't stop progress, as they say!
Expert Tip!
Today's mascara comes with wands that have either brush bristles or plastic bristles. The first type adds volume and thickness to lashes, but can leave behind a few clumps. The second helps define and lengthen lashes and generally produces fewer clumps.
The art of applying mascara
Mascara application is a pretty straightforward process. To avoid getting colour-altering eye shadow particles in your mascara, you should always apply it at the very end.
Start by curling your lashes with a lash curler. Place it at the root of your lashes and press. Repeat, moving toward the ends.
Apply a mascara primer, as this will help add length. Primers come as individual products or combined with mascara.
When you're ready to apply, tilt your head back slightly and use the brush in a zigzag motion, starting from the roots to the ends. Go over the lashes once more to separate them well.
Want a tip? Hold a tissue behind your lashes to avoid getting mascara on your lids and eye makeup.
Top and bottom lashes? To make eyes look longer, apply only to the top lashes. For rounder-looking eyes, add mascara to both the top and bottom. Keep in mind that when worn on the bottom lashes, mascara can draw attention to under-eye circles.
To finish, comb your lashes with an eyelash comb to remove clumps and add definition.
For a clean end result, wipe away any mascara streaks from your skin using a damp cotton swab.
More tips!
Looking to turn up the volume even more?
Apply loose powder to your lashes and follow with a second coat of mascara.
You can also add gel eyeliner inside the upper lid using a soft, slanted brush. Remember that this technique will pump up the volume, but can also leave lashes looking shorter.
Do not pump the wand in and out of the tube. This only dries up the product.
Don't forget: mascara lasts 3 to 6 months at the most.
Pharmacy services
For additional advice, speak with your Uniprix beauty consultant! She will be more than happy to help!
Looking for more helpful health and beauty tips? Interested in receiving special offers? Click here and sign up for our newsletter today!
[UNIPRIX] - The information contained herein is provided for informational purposes only and is not intended to provide complete information on the subject matter or to replace the advice of a health professional. This information does not constitute medical consultation, diagnosis or opinion and should not be interpreted as such. Please consult your health care provider if you have any questions about your health, medications or treatment.