With makeup trends coming and going faster than you can blink, it's not always easy to keep up, let alone steer clear of beauty faux pas. Read on for fast fixes to common makeup mishaps!
Number 1 pointer for great makeup 
Are you horrified at the thought of making a makeup faux pas? The best way to steer clear of blunders is to start with classic products and colours and add a few touches inspired from the latest trends.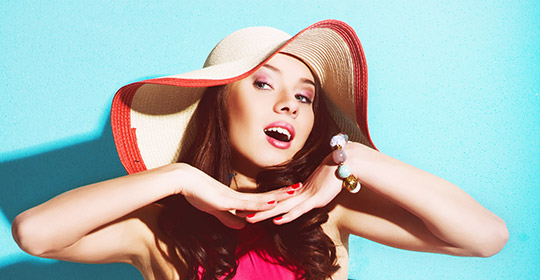 Top 12 makeup mistakes!
1. Choosing a darker foundation to look tanned
Always wear foundation that matches the natural colour of your skin. For a healthy, all-natural glow, use a large makeup brush to apply a hint of "sun powder" (bronzing powder) to the protruding parts of your face.
2. Applying blush in the hollow of your cheeks
It is better to sweep it on the apples of your cheeks. Want to know where they are? Just stand in front of a mirror and smile. The apples of your cheeks are the parts standing out. Pro Beauty Tip: for a great sun-kissed glow, use peach or pink blush.
3. Using a coloured eye shadow from the roots of the lashes to the eyebrow 
For pretty results, apply shadow only to the eyelid. Always stop at the crease, lightly blending with a clean cotton swab.
4. Matching your eye shadow to your clothes
Your eye shadow should match your eye colour, not your outfit! The secret to choosing the right colour for your eyes is to find a hue that complements your iris.
5. Wearing blue or grey eye shadow if you have dark circles under your eyes
Unless, of course, you really want to draw attention your under-eye circles! What you want to do is look for golden, shimmery shades. The end result will be much more attractive!
6. Wearing pearly eye shadow if you have fine lines or wrinkles
Sheen attracts the eye and highlights imperfections. So use sparingly: just a hint in the inner corner of the eye, for example.
7. Drawing on your eyebrows 
You went a bit overboard with the tweezers? Fill in the gaps using an angled eye shadow brush and matte eye shadow slightly lighter than your eyebrows. It's the best technique for natural results.
8. Using a darker lip liner than your lipstick
That fashion ship has sailed! The trend now is to contour your lips with a liner that perfectly matches the colour of your lipstick.
9. Exaggerating your lip contour for more volume 
If you have thin lips, you can go beyond your natural lip contour with the liner, but do so with extreme care. For convincing results, you also need to fill in all of your lips with the liner before applying your lipstick.
10. Having lipstick on your teeth
It's easy to avoid this embarrassing blunder. After applying your lipstick, remove any excess by placing a tissue between your lips and pressing them together. Do a final mirror check and off you go!
11. Overdoing the glitter
It captures light and adds a touch of glamour to your look. Glitter, however, tends to steal the spotlight. To be used in moderation only.
12. Sporting an tatty, chipped manicure
For a clean, sleek look and a streak-free manicure that lasts, follow these tips from the pros. Start with a clear base coat, then apply 2 or 3 coats of coloured polish, followed by a protective top coat. If you don't like having to redo your nails often, choose a lighter shade of polish.
Pharmacy services
Need help choosing your products? Drop by the cosmetic department at your local Uniprix store and talk to a beauty consultant.