Oval, round, square or oblong… each of us has a unique face shape.  So it stands to reason that our makeup should reflect this reality. Learn how to apply blush to better define your features, flatter your face and avoid common pitfalls.
5 tips for a natural makeup look
1. Choose the right shade  
For fair complexions, opt for hues of pink or apricot.
For medium complexions, try tones of apricot or peach.
For dark complexions, choose shades of peach or coral.
Important Pointer!
You always need to take into account the colour of your lipstick. You don't want to mix a warm shade with a cool one. For example, avoid pairing pink blush with brown lipstick or coral blush with a pink lip. In other words, for a balanced look, the colour of your blush should match the colour of your lipstick. Another option is to choose a neutral blush in a beige tone, which you are then free to pair with any lip colour.
2. Get a good brush    
A blush brush is a medium brush with a round tip and more supple, denser bristles than a powder brush.
3. Smile or pucker up?
The most common method used to apply blush starts with smiling and then sweeping the blush over the apples of your cheeks. If you have a round face, however, it is better to pucker up and apply the blush just above the hollow, but below the cheekbone.
4. Apply blush in daylight
You'll get the right intensity for a natural finish.
5. Work the colour to shape your face
Play with light and shadow to correct, define or bring out your features. Contouring is a godsend!
How to apply blush by face shape
Oval
The perfectly balanced oval face is considered the ideal face shape in makeup. To bring out its full beauty, smile and sweep the blush over the apples of your cheeks towards the temples. You'll get that gorgeous healthy glow!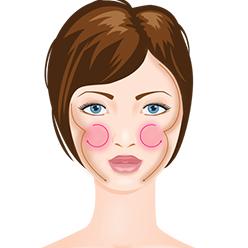 As for contouring, use a matte shade one tone darker than your skin and draw a "3" starting at the forehead, moving to the temples, beneath the cheekbones and then right down to the jaw line.
Round
With this face shape, your job is to define, slim and lengthen. To do so, pucker up and apply the blush from the temples and, in a downward motion, sweep it beneath the cheekbones, just above the hollow. Pearly shades that reflect light and add volume should be avoided.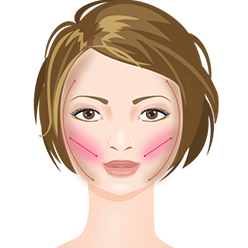 To add contour and downplay the round shape of your face, apply a darker shade starting at the temples, blending towards the jaw line.
Square
Square faces have a strong jaw line and angles that need to be lengthened and softened.  Smile and, using a small circular, steady motion, apply blush to the centre of your cheeks.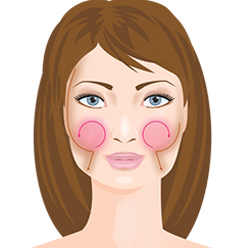 Contouring can also help lengthen the face. Add shading from the temples, blending it beneath the cheekbones, down to the jaw line.
Oblong
This face shape features a less prominent jaw line, a wider forehead and longer nose and chin, giving it a narrow look. To give the illusion of width and downplay the length, apply blush in a horizontal motion, starting from the apples and sweeping it right up to the ears.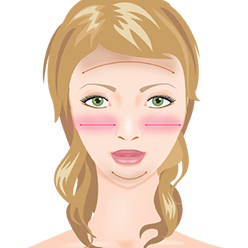 To make your face look shorter, apply a darker shade to the upper part of your forehead and to your chin.
Pharmacy services
For even more tips and tricks, come and speak with your Uniprix beauty consultant. She'll be more than happy to help!
Looking for more helpful health and beauty tips? Interested in receiving special offers? Click here and sign up for our newsletter today.