Much to our heart's delight, summertime is leg-baring season. Before you throw on your skirts, dresses, capris and shorts, consider a quick hair removal. But which method  is better?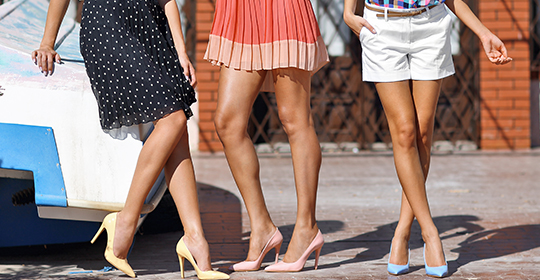 At the Uniprix Boutique Beauté, you'll find all the necessary products for smooth, hair-free legs fast. Here are the pros and cons of two popular do-it-yourself methods: shaving and waxing.
Shaving
A convenient, easy and painless option that takes little time and can be done just about anywhere! The drawback: it's the method that irritates skin most. Also, since razors cut hairs at the surface of the skin, leaving the bulb intact, shaving needs to be done regularly. When hair grows back, it is often dark and thick with a tendency to get coarser over time. 
Here are a few tips for a fast shave in the shower:
•    Exfoliate your skin before shaving .
•    Use a good quality razor and a cream or gel made specifically for shaving. 
•    Run the razor blade under hot water to warm it up. 
•    Always shave in the direction of hair growth.
Electric razors are another good option to consider.
Waxing
More gentle on skin, waxing removes both the hair and the bulb. It requires more time and care than shaving, but re-growth is slower and softer. In fact, it takes 3 to 4 weeks for new hair to grow back and when it does, it is finer and will lose its coarseness over time. For optimal results, waxing should be done on hairs that are at least 3 mm long. 
In terms of convenience, ready-to-use wax strips are the quickest method. You simply heat them up between your hands and apply in the direction of hair growth. Then, remove the strip in the opposite direction of hair growth, holding skin taut at the base of the strip with your free hand. 
To take off as much hair as possible, make sure you pull off the strip swiftly in a single motion. It requires a bit of practice, but the more you do it, the faster you'll be. 
Pharmacy services
There are many products for perfect-every-time hair removal you can do at home. Just ask your Uniprix beauty consultant to help you pick the right one! 
Looking for more helpful health and beauty tips? Interested in receiving special offers? Click here and sign up for our newsletter today.