​
The secret is out: gorgeous nails are in! Wear them short, long, square or even stiletto or choose a glitter or glossy finish. At Uniprix, you'll find a full lineup of nail art products for creating designs to your heart's content.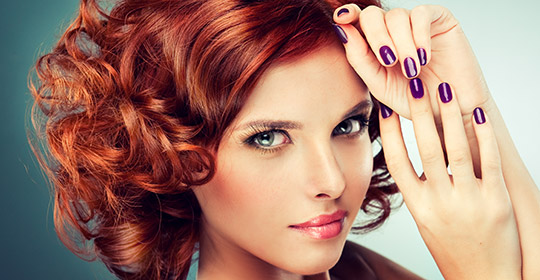 Hot fall trends
With the arrival of fall and winter, it's time to swap the bright, dazzling shades and delicate pastels of spring and summer for darker, moodier jewel tones. Hues are muted and sophisticated, shimmery and bewitching. Here is an overview.  
The colour spectrum builds into an elegant crescendo of tones that starts with taupe, progresses to slate grey, stormy blue-grey and shark blue and culminates in a burst of marble, electric or faux-leather black. Other trend-setting shades you can enjoy this fall include deep cherry, raspberry with a tinge of Bordeaux and spruce green.
Fall in love with the delicate shimmer and barely-there twinkle of the season's iridescent pink, pearly chocolate brown or antique rose. Or let glittery tones of bronze and gold win you over.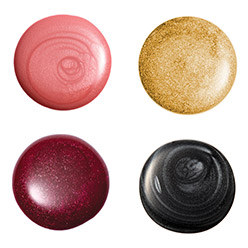 Artificial nails: What are your options?
Are your nails too short, ragged, uneven or brittle? If you think a beautiful, dainty manicure is out of the question for you, think again! Many great options can get you the gorgeous nails you crave:
False nails using the resin powder technique
Press-on nails with designer motifs
Gel manicure on artificial nails
False nails using the resin powder technique
Here is a tutorial on applying false nails yourself using the resin powder technique.

Press-on nails with designer motifs
For this option, you will need these supplies:
Cuticle pusher
Nail buffer
Nail file
Press-on designer nail kit
Glue for artificial nails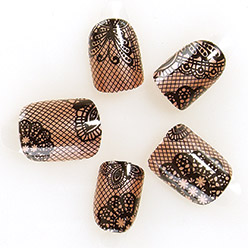 Start by washing your hands and nails to remove all traces of hand cream.
Push back your cuticles.
Prep your nails by polishing them with the nail buffer and filing them to the desired length.
Select the artificial nail that best matches the size of each of your nails.
Apply glue to the underside of the artificial nail and place it on your own nail at the cuticle. Gently press down for about 15 seconds.
File to the desired shape and length (square, round, pointed, almond-shaped, etc.).
Repeat for each nail.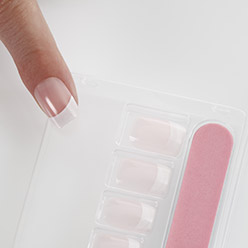 When you're ready to remove your artificial nails, simply use acetone nail polish remover made for this purpose. And between manicures, remember to care for your natural nails with a moisturizing and conditioning product.
Gel manicure on artificial nails
A final option involves applying plain artificial nails (see method above) and following up with a gel manicure using special gel kits available in store. To learn more about this technique, read our article Gel manicure at home – Everything you need for great results.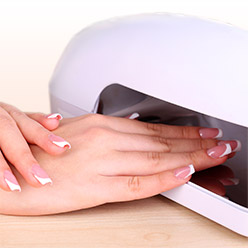 Pharmacy services
Do you have questions about nail art products? Talk to your Uniprix beauty consultant. She will be more than happy to help.
Looking for more helpful health and beauty tips? Interested in receiving special offers? Click here and sign up for our newsletter today!