Whether you're getting ready for a special event or just a regular day, you always want to look your best. This means being able to eliminate, if just for a moment, those tiny, yet stubborn skin flaws that can give you headache!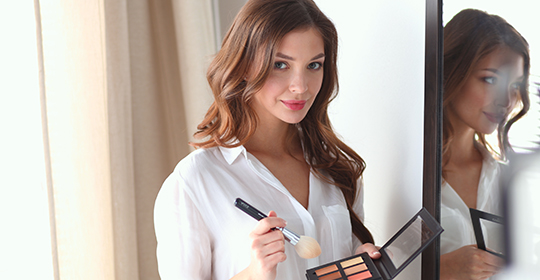 Facing down unwanted facial hair
There are various products on the market designed to help hide (or temporarily remove) unwanted facial hair on the upper lip, chin and along the brow line.  
•    Bleaching cream (it really does lighten hair)
•    Depilatory cream formulated to dissolve hair on the sensitive facial skin 
•    Wax strips or high precision wax applicators made just for the facial area 
Before you use any of these products, carefully read the instructions to make sure it is right for you.
Pimples and blackheads, hide for your life!
We all know that the secret to beautiful skin lies in how well we care for it. That's why, before you start thinking about hiding pimples, blackheads and other small imperfections, you need to make sure your skin care regimen is suited to your skin type. Once that's settled, it's time to pull out a few clever tricks to cover these flaws should they appear! 
•    Makeup primers: Applying a makeup primer  is great for masking small flaws and providing a smoother, more even complexion.
•    Complexion correctors: Using a green complexion corrector helps to reduce redness.
•    Makeup foundation : It evens out skin tone to further complete the correction process.
•    Corrector pencil: This super convenient, easy-to-use product is a great tool for emergencies. It dries pimples and makes them disappear in a jiffy; plus, it camouflages without blocking pores.    
Of course, makeup is great for hiding problems that already exist. But remember that makeup removal is a crucial step if you want to keep new pimples from appearing!
Pharmacy services
To choose products suited to your skin type, come and meet your Uniprix beauty consultant. She's there to help! 
Looking for more helpful health and beauty tips? Interested in receiving special offers? Click here and sign up for our newsletter today.