Your eyes look beautiful makeup-free, but with just two little products – eyeliner and mascara – they can look absolutely stunning.
To achieve gorgeous eyes in a flash, you will need:
• A black felt-tip eyeliner, and
• Lengthening or volumizing mascara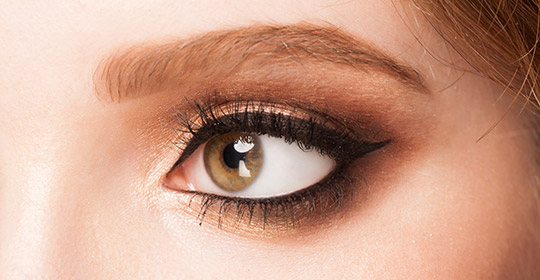 Step One: Eyeliner
You'll find quite a few products out there. Some are pretty basic, while others, like glitter eyeliner, are a bit more daring. Our favourite has to be the black felt-tip eyeliner. It has great precision and impeccable hold and it lets you draw a perfect thick line in a single stroke. Liquid liner is another good option. With time, however, the bristles of the brush tend to get frayed, making application more difficult.
How to proceed
In this article, we are going to teach you how to create the classic, sultry and chic cat eye look. Here is how to proceed for best results.
1) Rest your elbow on a flat surface, such as a countertop, and gently pull your eyelid taut with your index finger. This will help you get a nice straight line.
2) Start your line at the inner corner of the eye. Apply along the entire lash line. Try using long strokes.
3) Draw a winged tip. To find the right angle, hold your eyeliner pencil along your nostril and turn it so it points to the outer corner of your eye and eyebrow. The winged tip should follow the lower curve of your eye and lashes. 
Step Two: Mascara
Every year, new mascaras hit store shelves. But here is all you really need to know:
• Thin brushes lengthen and define lashes;
• Thick brushes add volume.
Application is the same in both cases.
How to proceed
No cat eye would be complete without the finishing touch: mascara.
1) Take the brush out of the tube and remove any excess by rubbing it against the bottle. This helps to reduce clumps.
2) Place the brush at the root of your lashes and move toward the tips in a zigzag motion. You can also roll the brush along your lashes for a curl effect.
3) Focus on the outer corners of the lashes to enhance your cat eye.
4) Separate each lash and remove any clumps; a small clean brush works well for this.
One last tip: Use a standard black or brown mascara to reduce your risk of making a makeup mistake.
Pharmacy services 
Need help choosing products that fit your style and budget? Come and talk to our beauty consultants. They can point you in the right direction.