While they often go unnoticed, eyebrows are actually a key facial feature. In fact, they can be compared to a picture frame. If you hang a beautiful painting without a frame, its visibility and impact will be reduced. The same can be said of the face: if the eyes are not framed by a clean, well-groomed line, they will not shine their brightest.

Well-shaped eyebrows bring out the eyes and add depth to your expression.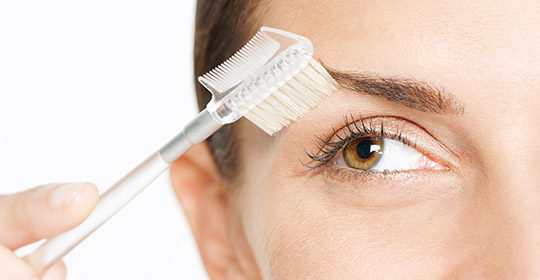 Like clothing and makeup, eyebrows have undergone many trends over the years. At one point, thin Édith Piaf brows were all the rage. Another period saw the likes of Madonna and Brooke Shields sporting thick, full eyebrows.

Today, the style is a medium-sized, natural-looking, well-defined and structured eyebrow.  
 
Tweezing your eyebrows
I will now show you how to shape your eyebrows. If you are worried about doing this on your own because this is a first for you, I recommend you talk to a professional.

A well-shaped eyebrow helps to structure the face and minimize the look of certain flaws. If you have drooping eyelids, for instance, you can make your eyes look wider by accentuating the highest point of your eyebrow (the arch).  

Step 1: Trim your eyebrows. Using a small brush, comb the eyebrows upward and trim any excess hair with small scissors, much like a regular haircut.

Step 2: Determine the shape. Place a pencil along the side of your nose and trace three imaginary lines: one where the eyebrow should start, another where it should end and a final one at its highest point (the arch).

Step 3: Create the shape. Using a white pencil, draw the shape of your eyebrows. Remove any hairs that fall outside this area.

Important: This technique should only be used for those with standard set eyes. If you have wide-set or close-set eyes, a different method is needed. In such cases, it is best to talk to a professional.

Step 4: Add the finishing touch. Women with thick eyebrows can simply brush them and apply gel or clear mascara. Those with sparser eyebrows should use an eyeliner or eye shadow to fill in the brow and create a perfect line.

Finally, here are a few tips on how to ease the pain of tweezing:
Tweeze your eyebrows after a shower, when pores are dilated.
Talk to your pharmacist about topical anesthetic creams available on store shelves.
Use an ice cube to numb the area to be tweezed.
When tweezing, make sure you hold the skin firmly.
Pharmacy Service
And to find everything you need to take care of your eyebrows, visit your Uniprix beauty consultant!