You'd like to shape your eyebrows, but you're afraid of making a blunder? Have faith in yourself: you can create gorgeous eyebrows in just three easy steps. The most important thing to remember is to avoid drastic changes to your natural brow line.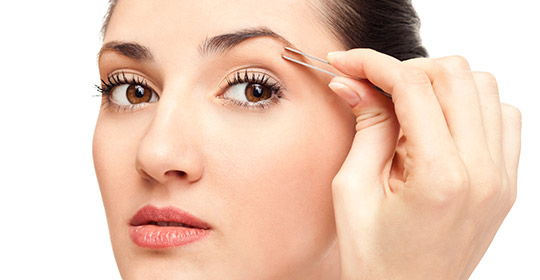 Here are the tools you'll need for great results:
Eyebrow pencil or powdered shadow
White eyeliner
Numbing cream
Slant-tip tweezers
Eyebrow brush
Brow styling gel
Step 1: Define
Before you begin, you must absolutely define the ideal shape for your eyebrows. Here's how to do it.
Take the eyebrow pencil and hold it vertically along the side of your nose. The pencil should reach past your eye to your eyebrow. This is where your eyebrow should begin. Mark this spot using the white eyeliner.
Rotate the eyebrow pencil from the edge of your nose toward the outer corner of your eye. The pencil is now at an angle. It touches your nose, reaches past the corner of your eye and stops at the brow. This is where your eyebrow should end. Take your white eyeliner and mark this spot, as well.
To define the arch, look straight and line up the eyebrow pencil with the outer edge of your iris. Make a white mark where the tip of your pencil meets the eyebrow.
Define the shape of your eyebrow by joining the three dots you drew and tracing the contour of your brow using the white eyeliner. If you're concerned about pain when tweezing, apply a bit of numbing cream to your skin.
You're now ready to tweeze!
Step 2: Tweeze
Remove all hairs above and below the white line. Be precise and do not pluck any hairs above your eyebrows.
Quick tip!
The best tool for tweezing is a pair of slant-tip tweezers.
Step 3: Touch up
If you removed too many hairs, use an eyebrow pencil to fill in any over-plucked spots. Make sure the pencil matches the colour of your eyebrows. You can also use a powdered shadow if you prefer.
End by brushing your eyebrows upward to blend the colour. For an impeccable finish, tame any stray hairs with a brow styling gel.
Quick tip!
Your skin will probably be a tad red after tweezing. If you have a big night out, remember to tweeze the day before. 
Pharmacy services
To choose the right products for great eyebrows, talk to your beauty consultant. She's there to help!