Vital to creating any polished makeup look, cosmetic brushes need daily care to stay in good condition over time. Here are a few tips that will help you keep them for years to come!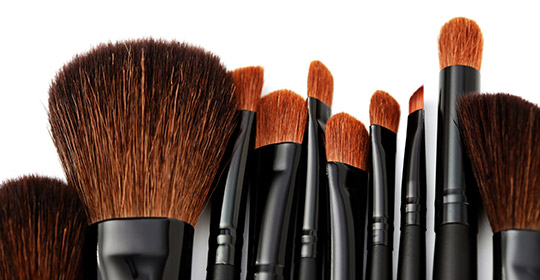 The ABCs of proper brush care
With the right care, good brushes can last years – even a lifetime! The key is to look after them well, which means taking the time to clean them on a regular basis!
Daily care
spray antiseptic brush cleaner on a paper towel.
Glide the brush over the saturated area. 
Let it dry.
Do not soak your brushes in cleaning solution. The alcohol it contains might dissolve the glue that holds the bristles to the handle. A brush with no bristles would not be of much use, now, would it!
Weekly care
Put a few drops of baby shampoo in the palm of your hand.
Run the brush under warm running water, holding it head down.
Gently glide the brush across your palm in a sweeping motion. Rinse, again holding the bristles downward.
When cleaning the brush, do not crush the bristles by swirling them, as this could cause tangling. In addition, do not get the ferrel or handle wet, especially if the latter is made of wood.

Once you have finished cleaning the brush, you will need to dry it. To do so, simply wrap the brush in a clean paper towel and lightly squeeze the bristles. Remove the paper towel, gently pulling the handle to remove any excess water.
Good to know!
When your brushes are clean and dry, store them in your brush case to protect the bristles. Avoid compressing the bristles, as they could lose their shape, making their proper use more difficult. Don't forget to clean your brush case, as well. It too can harbour bacteria!

 
Pharmacy services
Need help choosing your brushes and the products to keep them clean? Just talk to one of our beauty consultants: they can point you in the right direction!