The world of fragrances is just as captivating as the world of wines. Each fragrance belongs to a specific family and has a unique facet: the scent's dominant ingredient. Learn more about the seven olfactive families of fragrances and their multiple facets and get set for a journey of aromatic discoveries!
(A quick tip to help you distinguish a perfume's family from its facet: you might belong to the "Smith" family, but you also have a first name. In the world of fragrances, this would be your "facet").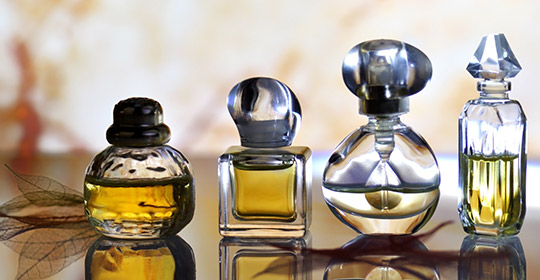 Hesperidia: Fresh and exuberant
All fragrances of the hesperidia family are formulated using the zesty freshness of citrus fruit, such as:
bergamot
lemon
orange
mandarin
grapefruit
These are combined with elements from the orange tree (blossoms, petitgrain, neroli). The first Eaux de Cologne for men and women can be found in this group. 
Floral: Feminine and romantic
Floral perfumes are made using a wide variety of floral scents. Characterized by its natural bouquet, the floral note is one of the most prominent components of women's fragrances. The family includes both single-flower scents and those blended from a combination of flowers, giving way to a heady, romantic feel. The floral features can be enhanced with different facets, with the end result being: 
floral fruity: Overtly floral accords woven with palpable fruity notes. Among them, apricot, raspberry, melon, litchi, pear, apple, etc.
floral green: Hints of greenery, such as the scent of freshly cut grass.
floral aldehydic: One of the most important categories in the history of fragrances today (Chanel No 5), a floral bouquet made to linger using slightly woody, animalic and metallic notes.
floral aquatic: A traditional floral bouquet boasting a combination of marine and oceanic notes during evaporation.
Chypre: Mysterious and elegant
The chypre family was born in 1917 after the creation of the Chypre perfume by François Coty. The fragrances were initially built on accords of oak moss, cist-labdanum, patchouli, bergamot, etc. Once again, several facets make up this class, the main ones being fruity chypres and floral chypres.
Oriental: Sensual and bewitching
Also referred to as ambers, oriental scents are dominated by a mingling of vanilla, balm and resin notes, like tonka bean and opopanax. One of the first oriental scents ever created was Shalimar in 1925. Notes of wood and lavender, reminiscent of long walks in the forest, can also be found under the fougère amber sub-group.
Fougère: Stimulating and subtle 
The whimsical name given to this olfactive family, which does not actually refer to the scent of ferns, is sometimes called "aromatic." Fougère scents bring together geranium, lavender, aromatic notes (mint, basil, sage, etc.), coumarin, vetiver and oak moss. Many men's eaux de toilette belong to this family. Jicky, one of the only fougère scents for her, was created in 1889 by Guerlain. To this day, Pour un Homme by Caron (1934) remains one of the emblems of this group of fragrances.
Woody: Warm and refined 
Typically masculine, fragrances in this category are dominated by notes such as:
vetiver
cedar
sandalwood
patchouli
Leather
An olfactive family for men, leather fragrances boast scents of honey, tobacco and birch. There is a current tendency to rank these scents in the chypre family. In reality, the popularity of the leather family has waned over the years.
Pharmacy services
Ready for personalized advice? Visit your local Uniprix today. A beauty consultant is standing by to assist you!