Whatever the style, your eyewear, just like your makeup, says something about who you are. But do makeup and glasses go together? Absolutely! You simply need to know how to pair them!
Makeup techniques for various lenses 
When it comes to glasses, the shape of your lenses can alter the appearance of your eyes. Here are a few pointers on bringing out their beauty, depending on your prescription.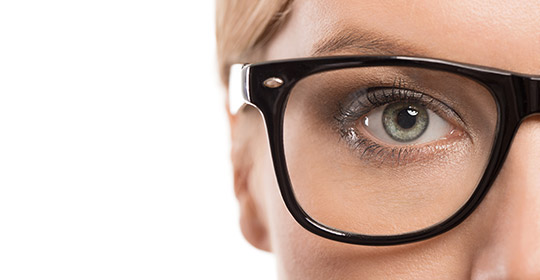 If you are nearsighted and wear concave lenses
Since concave lenses "shrink" the eyes, your mission is to make them look bigger. How? Apply a light-coloured eye shadow across the entire lid (e.g. beige, light rose) and white eyeliner inside the rim OR dark eyeliner in the outer corners. Here's a bonus tip: curl your upper lashes and use lengthening mascara.
If you are presbyopic and wear progressive lenses
Play around with colour! This will really bring out your eyes. You can also add eye liner to the base of your lashes followed by volume-enhancing mascara.
If you are farsighted and wear convex lenses
Convex lenses tend to magnify the eyes. To make them look smaller, use eyeliner or matte eye shadow in a dark hue to trace a line along your upper lid. For best results, stay close to the lash line.
If you are astigmatic and wear toric lenses
You will need to add intensity to your look. Do this by applying eyeliner to the contour of your eye. For a fabulous finish, apply mascara with outward strokes.
Finding the right balance 
When you wear glasses, make sure your makeup matches your frame. Of course, you'll also need to take into consideration your eye colour and personal style.
If you wear discreet, low-key frames
You're in luck! Just about anything goes. Simply stay away from matte eye shadow, since they make eyes look heavier.
If you wear large frames in a bold colour
Go for neutral shades to balance out your overall look. Your best bets: bronze, brown, coal and black. Add a touch of mascara to the upper lashes and keep lips natural or completely bare.
If you wear thick, black frames
Being daring is probably nothing new to you! So go ahead, boldly choose dark lipstick, in a raspberry or Bordeaux, but downplay your eyes. You'd like to try the smokey-eye look? Why not! Just remember to wear it with a shimmery, light-coloured lipstick (e.g. nude or pink).
Good to know!
Before you do your eye makeup, start by concealing any imperfections, such as dark under-eye circles, and powder your face to absorb any excess sebum (mineral makeup is great for this). You'll also want to make sure your eyebrows are impeccable! Tweeze any stray hairs; brush your eyebrows with a brow brush and fill in any gaps using an angled makeup brush and powdered eyebrow shadow.
Pharmacy services
Do you need help choosing the right products? Drop by one of our sales locations: our beauty consultants can point you in the right direction!