Today's fragrance departments showcase an astounding plethora of flasks and bottles, everything from eau de toilette and perfumes to concretes and eau fraîche. This incredible selection is bound to leave you mystified and confused! No need to panic: here's a guide to help you make scents of it all!
Fragrances: It's all about concentration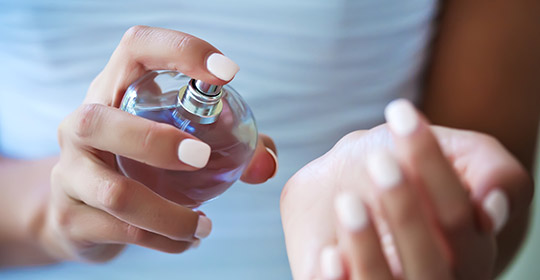 Before embarking on your quest for the perfect scent, you should know that the same fragrance can come in several forms, from the eau fraîche to the absolute. The differences lie primarily in their concentration (which also varies based on brand). After that, it's generally just a question of personal taste…or budget!
Eau fraîche (literally "fresh water")
Concentration: 1 to 3%
Light as a feather, this type of product produces a subtle aroma, making it a great choice for the summer . Its scent dissipates quickly. Our tip: keep the flask handy for easy reapplication.
Cologne water
Concentration: 4 to 6%
Cologne water is generally composed of citrus notes (bergamot, orange, lemon), giving it its typical fresh, crisp feel. Because of its lesser concentration and alcohol base, Cologne water can be used on the entire body.
Eau de toilette
Concentration: 7 to 11%
More volatile and less expensive than eau de parfum, eau de toilette is best worn in the day. It can be sprayed directly on skin, hair or clothing.
Eau de parfum
Concentration: 12 to 20%
Eau de parfum is longer lasting, but also more expensive, than the other waters. Its scent can linger anywhere from 3 to 6 hours. One spritz in the morning and at noon is all it takes to smell lovely all day.
Perfume
Concentration: 20 to 40%
Diluted in alcohol and relatively concentrated, perfume usually comes in small bottles with a price tag that can have your head spinning! Yet a few drops on the inside of your wrist or elbow or in your cleavage will have you smelling heavenly all day long. Use it sparingly and watch out for stains!
Concrete
Concentration: 30 to 40%
Composed of pure extracts from botanical or floral waxes, concretes come in solid or semi-solid form. They are super practical and fit easily in any handbag; plus, they're mess free! With concretes, you can say "goodbye" to stains on your skin, clothing and hair! (Available from perfumeries and specialized cosmetic brands).
Absolutes
Concentration: over 30%
Similar to essential oils, absolutes are rare, ultra-concentrated products. In fact, only certain companies manufacture their perfumes in this form. They have amazing lasting power that will linger deliciously for a full day. Good to know: Oily skin retains the scent of absolutes longer. (Available from perfumeries and specialized cosmetic brands).
Pharmacy services
Need help choosing the scent that will suit you best? Drop by one of our sales locations and talk to our beauty consultants. They can point you in the right direction!

Would you like more valuable health and beauty advice? Interested in receiving exclusive offers? Click here to sign up for our newsletter today!