Mornings are usually a race against the clock. A few bites of breakfast and it's already time to start pulling your look together for the day, including taming your flyaway tresses. Our team of beauty experts knows just how difficult it is to navigate those hectic mornings. That's why they are suggesting a few simple hairstyling ideas you can put into action in no time flat.
A loose chignon: Elegant, trendy and fast!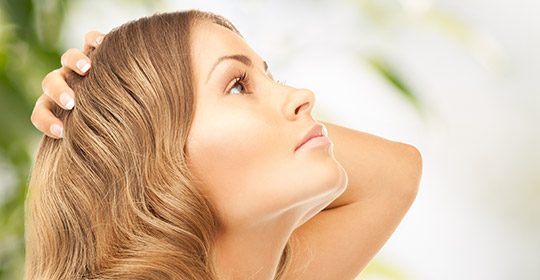 The chignon in all its forms – French pleat, braided, high, low or twisted – is always a fantastic option. Both sophisticated and practical, it's a hairstyle that can go anywhere, from the gym to the office and the bistro. The fastest and easiest version is, of course, the loose bun. Here is how to achieve this look.
Comb your hair well to undo any knots.
Using your hands, gather your hair at the back and centre of your head. Don't worry if the sides and top are not perfectly smooth. These small bumps only add charm to the style.
Take an elastic and tie your hair in an "almost-ponytail." In other words, don't pull the end of your hair all the way out; leave it tucked into the elastic. Then, twist the elastic around the number of times needed (this depends on the thickness of your hair and size of your elastic).
Straighten out the chignon on each side and hide any loose stands inside the bun using bobby pins.
If necessary, smooth out any small bumps on top by tucking them under flatter strands.
Pull out a few tendrils in the front to frame your face.
Expert tips for gorgeous hair
Want to boost the volume of your hair and wipe away all signs of morning bed head? Here are 3 tips that will never let you down!
Ride the wave 101
Wash your hair. Gently towel dry it. Follow with the blow dryer, but stop just before your hair is completely dry. Apply hair rollers. Choose the larger size: they will give you big, supple curls. Finish blow drying your hair. Leave the rollers in place for a few minutes – for example, the time it takes to eat your breakfast or apply your makeup. Remove the rollers, and out the door you go, with a beautiful head of hair!
Discipline 201
To give flat hair back its pep, there's nothing better than a bit of hair wax. Apply it to your troublesome strands, then use your blow dryer to melt it into the hair. This will let you discipline your tresses in a flash and make your hair shine!
Prep work 301
Wash and dry your hair before going to bed. This will give you a heads up the next morning. In any event, freshly washed hair is always more difficult to handle. It becomes limp, slippery and rebellious – all things you don't want! For healthy, manageable hair, space out your shampooing (twice a week is usually enough).
Our top picks in hair products
Here's a list of our favourite products that will help you save time and energy. In our view, these are definite must-have items!
Hot rollers
Flat iron
Hair wax or paste
Hair coloring "to go" and root touch-up products
Headbands, elastics, clips and bobby pins
Express conditioning treatments or masks 
Pharmacy services
Need help taming your locks? Our beauty consultants are there to help! Drop by and talk to them: they can guide you through the maze of products available in store.