Do you know your eye shape? Are you familiar with the application techniques that will bring out the beauty of your eyes? Are you using the shades that best match your eye colour?

To correct the shape of your eyes, you first need to understand the notions of light and shade. To enhance a feature, you must add light, that is, a pale shade. But, if you want to minimize an area, you need to use a dark colour.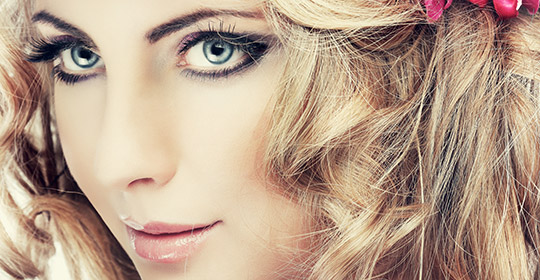 Here are ways to apply this idea for three different eye shapes.
 
Small eyes/small eyelids
The goal: Make eyes look bigger
The technique:
Apply a light shade on the lid and beneath the brow.
Apply a medium or dark shade along the brow bone, using a back-and-forth motion.
Tip for adding instant life: Line the inside of the eye with a white or beige eye liner.
Protruding eyes
The goal: Make eyes look smaller
The technique:
Apply a medium or dark shade over the entire eyelid.
Apply a light shade beneath the brow line.
Apply black eye liner to the inside of the eye.
This is the perfect eye shape for the smoky-eye look!
Drooping eyelids
The goal: Lift the eye
The technique:
Sweep a light shade over the entire eye area.
Apply a medium shade along the brow line, focusing on the outer edge.
Apply eyeliner along the upper lash line, again, with more focus on the outer edge.
Tip: When applying mascara, concentrate on the outer lashes; this opens the eye by lifting the lid.
Now, here are a few pointers on choosing the best eye shadow for your eye colour.

Blue eyes: Pink and peach accentuate blue eyes; violet, lilac, grey and silver are other good options. Avoid blues and greens.

Hazel eyes: To call attention to hazel eyes, brown, bronze and pink are a safe bet. Violet, lilac, plum and eggplant are other good matches. You'll want to avoid blues and greys, however.

Brown eyes: Any colour goes! So you can just choose the hue that matches your outfit.

Green eyes: Peach and brown will enhance green eyes. Pink and violet are other excellent choices!
Pharmacy Service
Ready for personalized advice? Visit the Uniprix location nearest you today. One of our beauty consultants will be happy to help you.