Elegance is a total package. It is reflected in everything from the clothes you wear to:
In other words, it's all in the details!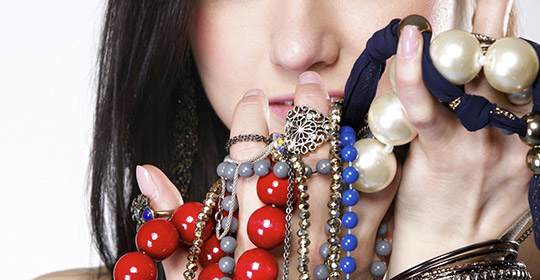 Uniprix boasts a wide selection of accessories, including:
Hair ornaments: headbands, barrettes, plastic or metal combs, scrunchies, decorative clips and elastics (these jewel-like items are very practical and can jazz up the basic brown bobby pin or plain elastic in a flash!)
Scarves in various fabrics and sizes
Classic, glamour and fashion socks and stockings
Sparkling body creams (perfect for those special nights out!)
Nail polish in all styles
To sport the latest trends in nail polish:
Go for vibrant, deep and warm hues like violet, burgundy, chestnut brown and bright red.
Choose matte, clear and even shades – very futuristic and sci-fi.
Steer clear of French manicures and pearly or glitter polishes.
A treasure trove of accessories
Uniprix offers you a gorgeous array of necklaces, earrings, bracelets and rings. These little jewels will help you transform an ordinary outfit into a stylish ensemble.

Costume jewellery

No need to spend a fortune to dazzle them with your gems! Just buy costume jewellery, like the kind sold in drugstores.
To keep your imitation jewellery looking good as new, you'll need to give it a little tender loving care. For example, make sure plastic or metallic pieces do not rub off or fade on your skin (especially if you have high-pH skin) by varnishing them with clear nail polish. You might also want to avoid placing them in contact with water, as this can cause them to rust or tarnish. 

A few general guidelines
Don't wear a necklace with long earrings.
Long earrings make the face look longer.
Long necklaces make the upper body look elongated.
If you wear a ring, feel free to pair it with a bracelet or wristwatch (very in this year).
Wear a multi-strand necklace (metallic, pearls or crystal) with figure-hugging low-cut tops and turtlenecks, another hot trend this year.
Women with fuller figures will want to avoid wearing too much jewellery, since this overwhelms the overall silhouette.
Pharmacy Services
Ready for personalized advice? Visit the Uniprix location nearest you today. One of our beauty consultants will be happy to help you.