Nail polish and nail art designs have become "fashion accessories" in their own right. You create any number of great looks, and it's easy to do!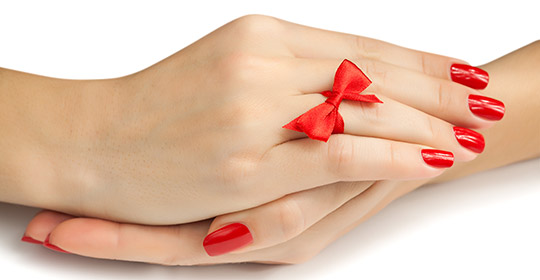 Here are the basic supplies you'll need:
A nail file
A cuticle pusher
A clear adhesive base coat
Protective nail polish
After completing the preliminary steps, it's time to create gorgeous nails. Here are a few ideas and techniques to get you started!
The Crackle Effect
For a crackle-effect nail design, start with a coat of coloured nail polish. Let it dry, then apply a crackle nail polish in a contrasting shade.
Nail Polish Strips
For a long-lasting manicure in a flash:
Get yourself some Real Nail Polish Strips
Select the best-fitting strip for your nail
Peel away the protective films
Apply the strip along the cuticle line
Press firmly
Fold the strip over the nail tip and file away the excess
Repeat for each nail, ending with the thumbs
Nail Art Stickers
Looking for something sophisticated? Or maybe something playful? Pick a coloured polish based on the look you want and then just apply nail art stickers or 3-D motifs in a style that suits your fancy!
Nail Art Pen
If you want a more personalized manicure, nail art pens are another option. Start with a coloured polish. Once it dries, use the nail art pen to create unique designs on each nail. Here's a quick tip: to make sure the nail polish flows smoothly from the pen, press the tip against a hard surface before you start.
Nail Art Stencils
Not confident about your artistic abilities? Just use stencils! Apply a stencil to a polished nail and paint the design of your choice!
Pharmacy services
Ready to get started? Drop by your local Uniprix and talk to your beauty consultant. She can help you pick the products and accessories you'll need. Because having beautiful hands, that's good for you too!