You've heard more than a few things about shampoo and now you can't make head nor tail of it all. It's time to untangle fact from fiction.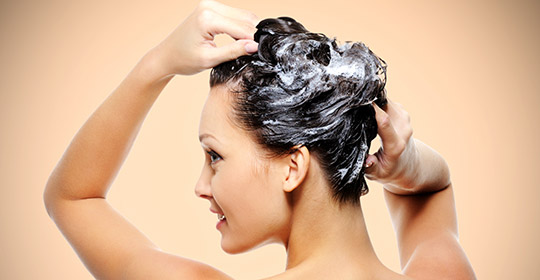 Conditioner is great for healthy hair.
TRUE. Used appropriately, conditioner is a great ally.
It moisturizes
protects hair from external factors (pollution, styling products, etc.)
controls frizz
untangles locks
and closes the hair's cuticle for more shine and body.
To avoid weighing down hair, apply product only on the lengths and ends of hair, not on the scalp. Use a pick comb to evenly distribute conditioner, leave it in, then rinse thoroughly.
Since it is very mild, baby shampoo is perfect for daily use.
FALSE. While mild and pleasant smelling, baby shampoo should not be used on adult hair. It is enriched with emollient agents, natural or synthetic oils, formulated specifically for the scalp of newborns and designed to protect it from dryness.
To improve the appearance of oily hair, wash it less frequently.
FALSE. You don't have to put up with oily hair thinking that washing it less frequently will solve the problem (regular use is anywhere from every day to once or twice a week, depending on your hair type). The trick is to choose the right shampoo. While more expensive, dermo-cosmetic shampoos deliver great results.
2 in 1 shampoos can undermine the health of your hair.
TRUE. They're fine – and ever so convenient – if you have normal hair. However, they do not sufficiently moisturize dry hair and tend to weigh down oily hair.
You should change your shampoo regularly, because it loses its effectiveness over time.
FALSE. If your shampoo still suits your needs, why change it? Your scalp, not the shampoo, can change – after:
 
pregnancy,
a hair colouring or
once winter arrives, for instance.
In that case, your best bet is to choose a product adapted to your new situation.
Pharmacy Service
For hair care advice and to find the shampoo that's right for you, visit your local Uniprix today! Our beauty consultant can also give you dermo-cosmetic shampoo samples. Just ask her!