Children are little balls of live energy, but it's common for them to develop minor health problems here and there. Among them are toothaches, headaches, fever, colds, allergies, allergic reactions and scrapes. How do you choose the right medication? What precautions do you take? Who can you talk to for advice? These are just some of the questions parents ask themselves when their kids get sick. Let's try to answer them now.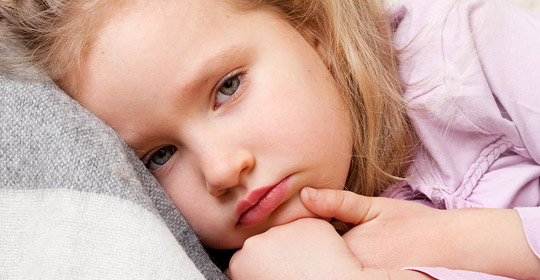 Is OTC medicine a miracle cure?
There is a wide variety of over-the-counter (OTC) drugs formulated just for children. While these products are not meant to cure ailments on the spot, they can help kids feel better by alleviating their symptoms. But keep in mind that they are not a panacea.
Here are several safety precautions you need to take when administering OTC drugs to children:
Respect the dosage, directions and warnings at all times.
Never give a double dose to make up for a missed dose.
Shake liquid formulas.
Accurately measure each dose using the measuring device provided with the product. If no such device is given, use a standard one (e.g. a measuring spoon).
Never give a child an over-the-counter drug formulated for adults.
Do not compare medicine to candy.
Keep all medicine out of the reach of children.
Go through your medicine chest on a regular basis and return any expired medicine to the pharmacy.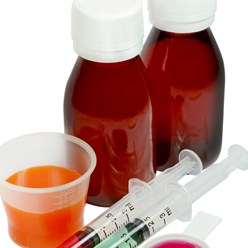 What if a child vomits? If your child vomits after taking medicine, it generally means the drug has not been absorbed by the body. You can then re-administer another dose. More potent drugs, normally available only by prescription, are an exception to this rule. If you have doubts or questions, talk to your family pharmacist.
Your family pharmacist, your ally
The American Academy of Pediatrics says that OTC medicine should NEVER be given to children under the age of 2 without first consulting a health professional.
Accessible and always ready to listen, family pharmacists are the perfect health resource to talk to you when you have questions regarding the use of OTC drugs in children of any age – whether they are 0 to 2 or 2 to 12!   Here are some of the valuable ways they can be of service.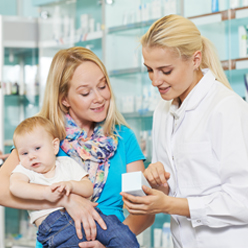 Pharmacists can help you choose the right OTC drug for your child's symptoms.
If your child is taking more than one drug, they make sure these will not interact with one another. To avoid the risk of overdose, they also check that the same ingredient (e.g.: acetaminophen) is not present in more than one product.
They determine the correct dosage based on the child's exact weight to avoid the risk of administering too much medicine.
If necessary, they can give you a precise measuring device (e.g. dropper or syringe for oral medicine) to help you accurately measure the right dose. Some OTC drugs also come with a special, easy-to-use dosing device for greater measuring precision and zero mess.
They can recommend the best form (liquid, tablets, chewables, suppositories, creams) best suited to the child's age.
When needed, they can give you advice on getting your child to take the medicine more easily, whether an OTC drug or prescription medication (e.g. antibiotics). Here are a few examples of  tips pharmacists may recommend:

Have the child suck an ice cube, frozen treat or frozen fruit before taking the medicine. This numbs the taste buds and somewhat masks the bad taste of the medicine.
When using a syringe or dropper, administer the medicine in the hollow of the cheek.
Give your child a glass of cold water to drink before and after taking the medicine.
Distract the child by singing a song or nursery rhyme when administering the medicine.
Uniprix-affiliated pharmacists care about children's health, making them a great resource when minor ailments arise. Whether you're dealing with a child's fever, cold, flu, gastroenteritis, a burn, a scrape or head lice, be sure to ask your family pharmacist for help.
The ABCs of OTC drugs
Here are the OTC drugs for children that are safe to use and those you should avoid.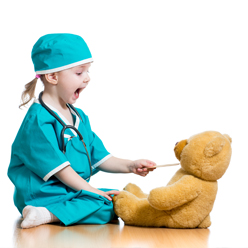 Pain and fever
Acetaminophen – Starting at 3 months
Ibuprofen – Starting at 6 months
Acetylsalicylic acid (Aspirin) – Avoid before 18 years of age
Rubbing alcohol – To be avoided
Topical benzocaine numbing gels – Avoid in babies for teething pain
Congestion and cough
Saline water — For all ages
Antihistamines — On doctor's recommendation only
Suppositories for the relief of coughing and chest congestion On doctor's recommendation only
Cough suppressant, expectorants, decongestants for colds and cough syrup – Never administer to children under the age of 6
Eucalyptus, menthol or camphor salves or ointments – Not recommended
Skin
Unscented moisturizer  — For all ages
Zinc oxide barrier creams  — For all ages
Antibiotic creams and ointments – For all ages
0.5% hydrocortisone ointment — For all ages
Wart removers — On doctor's recommendation only
Baby powder — Not recommended, since it can cause respiratory problems
Diarrhea, vomiting and constipation
Oral rehydration solution – For all ages
Probiotics – For all ages
Mineral oil  — Starting at 18 months to relieve constipation
Anti-nausea medication – On doctor's recommendation only
Anti-diarrhea medication —  On doctor's recommendation only
Suppositories and laxatives — On doctor's recommendation only
Pharmacy services
Do you have more questions on over-the-counter medications? Just speak with your family pharmacist for help and advice!
This ad has been paid for by Johnson & Johnson.