Purees are among the first foods given to babies when they start solids, often at around six months of age. Here are a few tips to help you make the best choices when it comes to feeding your baby.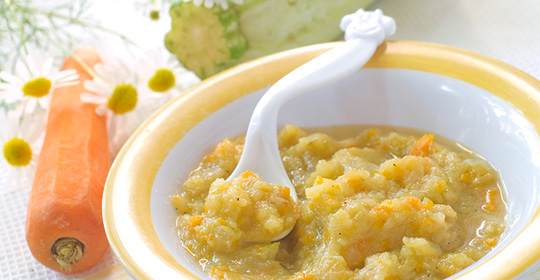 Homemade purees are the ideal option. They are less expensive, taste better and allow more variety. Their texture can also be modified in keeping with your baby's developing chewing and swallowing abilities. By going from smooth to chunkier purees, you will ease your baby's transition to "real" foods. This is not an option with commercial baby food, which always has the same smooth consistency.
To learn how to make your own purees and find out how long they keep in the fridge and freezer, read the guide From Tiny Tot to Toddler produced by the Institut national de santé publique du Québec.
It is important to remember that babies' first foods should be rich in iron to support their proper growth and good health.
Good to know!
Fruit and vegetables are high in vitamin C, which helps the body absorb iron. It is a good idea to introduce them early in your child's diet.
The basics of homemade baby food
Choose the freshest vegetables and fruit. If you use frozen products, make sure they do not contain salt, sugar, sauce or seasoning. Use only lean meats. Stay away from canned vegetables, meat and fish that have added salt. You can use canned fruit as long as it is packed in juice with no added sugar.
Commercial baby food
Commercial baby food, such as pureed fruit, vegetables and meat "for beginners," provides adequate nutrition. Purees for infants are generally made of a single vegetable or fruit, with no added sugar, salt or preservatives.
For babies eight months and over, the selection of purees available is wider and includes combinations of fruit or vegetables and blends of fruit and cereals or meat and vegetables.  
Products for children 12 months and over offer an even greater variety of options and a longer list of ingredients. Makers of baby food serve up everything from chicken cacciatore to beef Stroganov – even in puree form! Remember, though, that at that age, your child can eat the same food as the rest of the family. You decide whether these products are right for you.
Choosing the right commercial baby food
Select purees "for beginners" free of salt and sugar. Keep an eye out for baby food labeled "dessert." This means it contains added sugar.
Commercial purees are available in jars or frozen. While their composition may be similar (in the case of purees for beginners, at least), the methods of preparation differ, giving two very different products. The colour, flavour and texture of frozen purees closely resemble homemade baby food. Jarred baby foods are less expensive though.
Watch the salt
"Junior" or "toddler" food products differ widely from one manufacturer to another. They also vary depending on the target age group (eight months and over or 12 months and over). Pay special attention when purchasing food made for children 12 months and up, since the salt content tends to be quite high.
There are many products that contain 400 to 550 mg of sodium per serving. This represents about one-third of the maximum daily intake for children one to three years old (1500 mg).  Much too high!
Important tip
Avoid feeding your baby directly from the jar, as this increases the risk of bacterial contamination. Put the quantity you need in a bowl and refrigerate the rest.
Good to know
If you prefer organic food, grown without fertilizers, pesticides or other chemicals, you will be happy to know that there is certified organic jarred and frozen baby food available.
Pharmacy services
Do you have additional questions about your baby's health? Speak with your family pharmacist for answers!