Have you heard about the Teal Pumpkin Project®? Begun in the United States and supported here by Allergy Québec under the name Ma Citrouille Turquoise, this movement encourages neighbours to place a teal-coloured pumpkin in front of their home to show they're offering kids non-food treats on Halloween.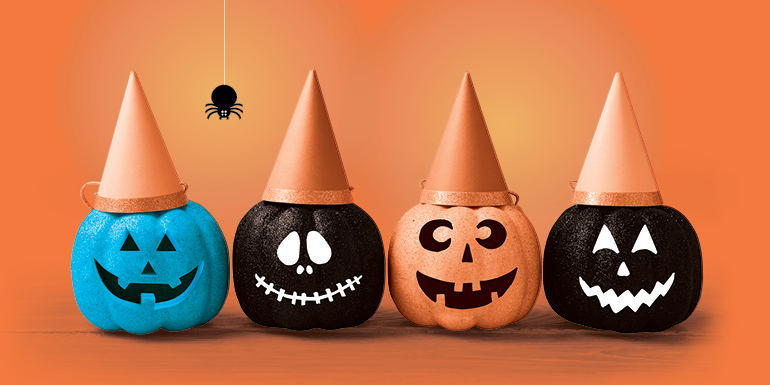 Good to know!
In partnership with Allergies Québec, Uniprix is now offering a selection of safe products—food and other treats—for kids with allergies. Uniprix is the first and only banner to officially participate in this health initiative.
A few facts about food allergies
Food allergies are an exaggerated immune reaction to the ingestion of an allergen (peanuts, nuts, eggs, milk, soy, wheat, seafood, etc.). This health concern is anything but trivial. On the contrary! It can result in anaphylactic shock and, if it a reaction goes unchecked, it can even cause death.
More than 300,000 Quebecers suffer from food allergies.
More than 40,000 elementary school students have food allergies.
Three children in 100, ages 10 and older, have one or more food allergies.
The majority of children lose their food allergies before they turn 7.[1]
Living with a food allergy—and the label checking and risks of cross contamination, among other concerns—is a daily challenge. So let's stand together! Let's make sure our neighbourhood kids have a great Halloween by offering them worry-free treats. Don't forget to set out your teal pumpkin!
Halloween treats: Non-food ideas
Stick-on tattoos
Mazes
Tops
Plastic jewellery (bracelets, necklaces and rings)
Glow bracelets
Crayons, markers or coloured pencils
Bouncy balls
Playdough (some brands contain wheat)
Whistles or kazoos
Stickers
Puzzles
Erasers
Keyrings
Collectors' cards
Mini-figurines
Yoyos
Stamps
Slime
Pharmacy services
Your family pharmacist can answer your food-allergy questions and, if necessary, show you how to use an epinephrine auto-injector (e.g. EpiPen). Don't hesitate to ask: he or she is a reliable and accessible resource!