Like most people, you probably missed the sun this winter. To make up for lost time, you might be thinking about dozing under its warm rays in the hopes of getting a lovely, sun-kissed glow. But think twice…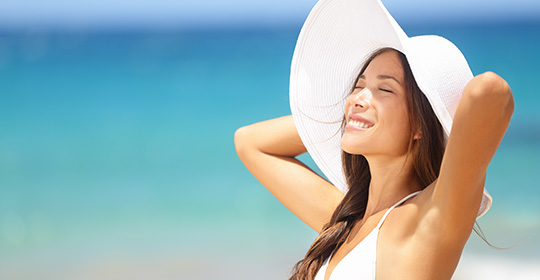 Tanning is not as safe as you think!
While the sun feels marvellous, it also emits harmful, cancer-causing rays called UVAs and UVBs. UVAs penetrate the dermis – the skin's deep layer – and damage its elastin fibres and collagen. This results in premature aging of the skin. UVBs affect the top layers of the skin – the epidermis – causing sunburns. As for skin cancer, UVBs are recognized as its number one cause, while UVAs have also been found to be a contributing factor.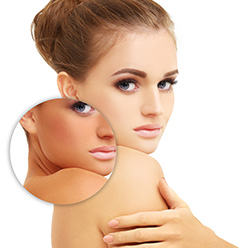 Tanning is the result of contact with UVB rays, which cause the darkening and thickening of the epidermis. It's actually skin's defence mechanism against UVBs. In other words, being tanned means that your skin cells have been damaged and this increases the risk of developing skin cancer.
Enjoy the summer minus the risk
You can still take full advantage of the summer season. You just need to adequately protect yourself from the harmful effects of the sun. Here are a few tips:
Use a sunscreen with a sun protection factor (SPF) of at least 30. Say goodbye to tanning oils. They offer little or no protection. If you have sensitive skin or a history of skin cancer, you should avoid the sun altogether, according to the Canadian Dermatology Association (CDA). If you do decide to go in the sun, you will need to be extra disciplined about using a product with an SPF of 30 or more every single time.
Apply sunscreen at least 30 minutes before going outside and reapply every two hours. Unfortunately, most people do not use enough sunscreen. Here's a rule of thumb: for sunscreen in cream form, you need an adult-size palm-full of product to adequately cover your entire body.  
Wear sunglasses that protect against UVA and UVB rays. Ultraviolet rays can cause damage to your eyes and increase your chances of developing cataracts.
Install a parasol or canopy to create shade where you spend time outdoors. You can also plant leaf-bearing trees to serve as natural sun barriers.
Wear a hat with a wide brim. This will protect your head, neck and ears from sunburns.
Choose long clothing made from tightly woven fibres. You can now get clothing with built-in sun protection. Some types can even be worn for swimming.
Limit your exposure to the sun, especially between 11 a.m. and 4 p.m., when the sun's rays are at their strongest.
Keep babies away from the sun, since their skin is extremely fragile. Sunscreen manufacturers do not recommend the use of their products on babies younger than 6 months old.  
Ask your pharmacist if your medication increases photosensitivity (i.e. when a drug makes skin more sensitive to the sun). This is the case for certain antidepressants, antihistamines and antibiotics.
Pharmacy services
If you have questions about sun protection and sunscreen products available at the pharmacy, speak with your family pharmacist or beauty consultant.