Are you in pain? Suffering from cramps, a muscle spasm or joint pain? Did you sprain, strain or tear a muscle? You may be wondering if you should apply heat or ice. Read what follows to find out.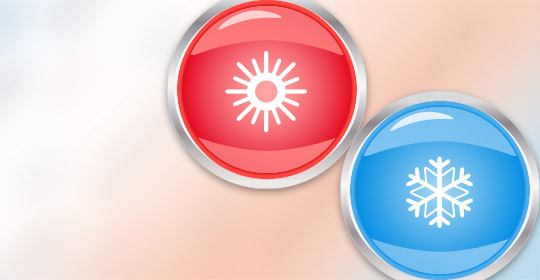 Thermotherapy
Heat therapy promotes the regeneration of tissue and provides relief by: 
Dilating blood vessels, increasing blood flow to the area
Promoting cellular activity
Relaxing tense muscles
Increasing tissue elasticity 
Reducing pain
You take a hot bath or apply a warm compress or hot water bottle for muscle cramps, menstrual cramps, muscle spasms, sore or stiff muscles and arthritic pain. 
Cryotherapy
Cold therapy is effective where the ice is applied. It provides pain relief by:
Slowing blood flow
Reducing swelling
Minimizing muscle spasms 
Anesthetizing the area by temporarily slowing down nerve conduction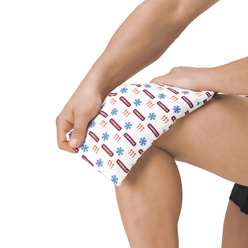 Cold therapy (e.g. gel pack or bag of frozen peas) is the right choice for sprains, tears, strains, bruises, minor burns, insect bites and headaches.
Important!
Do not use cold therapy on wounds, since it interferes with the healing process. 
How long? How often? 
Whether you're treating an injury with heat or cold, the instructions are the same: apply the compress to the injured area for 10 to 15 minutes, every 1 to 2 hours for the first 2 days. Never apply directly to skin, since it can damage the tissues. Always wrap your compress in a towel first. 
Other solutions? 
Over-the-counter medicines  can also be taken to alleviate pain. Depending on your specific problem, you may want to use a product that contains acetaminophen or an anti-inflammatory drug, such as ibuprofen, but never longer than 2 to 3 days. 
Topical products, such as creams and ointments containing camphor, menthol, triethanolamine salicylate or methyl salicylate, are good options for the relief of localized pain. Many types of formulas are available on the market:  some are odourless, while others provide a cold or a hot sensation. Keep in mind that you should never apply these products to broken skin. 
Pharmacy services
Your family pharmacists  can give you first aid advice for all types of injuries. Talk to them: It's what their job is all about!