Breast milk is the best food for babies. It provides all the nutrients and immunity factors they need. Not to mention that nursing makes them feel safe and loved.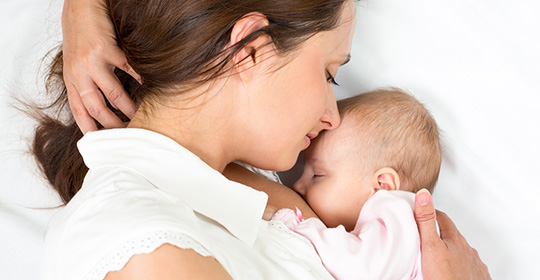 The Canadian Paediatric Society, the Dietitians of Canada and Health Canada recommend exclusive breastfeeding (no other food or beverage) for healthy term infants during the first six months of life. Today, 85 percent of Quebec moms breastfeed their newborns and nearly 50 percent of them continue six months and beyond.
Nature's super food!
The nutritional composition of breast milk is constantly changing to meet your child's evolving needs. It varies based on a baby's age, stage of the feeding (beginning or end), frequency of feedings and time of day (morning or night). Breast milk is easily digested and contains the perfect quantities of proteins, fats, vitamins and minerals.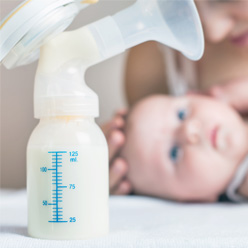 The unique composition of breast milk ensures babies' optimal growth. Human milk contains substances that give them greater protection from gastrointestinal, respiratory and ear infections. And what's more, recent studies have shown that breastfeeding is linked to a reduced risk of childhood obesity.
What should nursing moms eat?
Maintain the healthy eating habits you had during pregnancy. Increase your serving sizes and eat three snacks a day to meet your additional energy needs – that means about 450 calories more than when you were pregnant. You need the extra calories to produce breast milk, so they should not lead to weight gain. Trying to lose weight too fast could affect your milk production at a time when it is stabilizing.
Having a varied diet may play a role in developing your baby's sense of taste. Plus, there is no need for you to avoid certain foods in order to prevent allergies in your child.
Though breast milk is perfectly suited to babies' digestive system and bowels and will usually not cause allergic reactions, it can, in some babies, trigger events symptomatic of food allergies or intolerances (e.g. crying fits, repeated refusal to eat, blood in the stool) to the foods you consume (e.g. dairy products). If symptoms persist, stop eating that particular food and see your doctor.
Avoid nursing immediately after drinking alcohol or coffee. These substances pass into breast milk and affect your baby's sleep and proper development. You should limit your caffeine intake to approximately 2 cups of coffee per day and wait 2 to 3 hours to nurse after consuming alcohol.
Remember your vitamin D!
Babies need vitamin D for healthy growth and development. Breast milk does not contain sufficient amounts of this vitamin to meet their needs. Since the principal source of vitamin D is exposure to the sun – clearly not an option for infants – breastfed babies need a vitamin D supplement.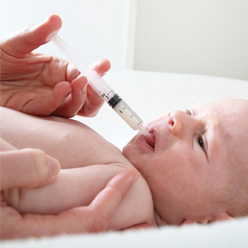 To reduce the risk of deficiency, paediatric specialists and Health Canada recommend 400 IU of vitamin D supplement per day for all babies breastfed from birth. For information on choosing and administering a supplement, speak with your family pharmacist.
Infant formula
Breastfeeding is the ideal way to feed infants. However, for babies who are not nursed or only partially so, commercial infant formulas are the best substitute until the age of 9 to 12 months. They provide babies with the calories and nutrients they need to grow and develop well.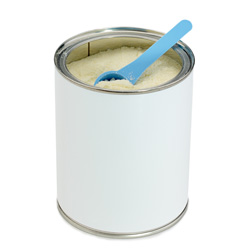 Make sure you give your baby infant formula enriched with iron right from birth. Iron deficiency can have a detrimental impact on a child's development.
Soy-based infant formulas are recommended for babies on a strict vegetarian diet or infants who suffer from galactosemia.
Intolerance or allergy to infant formula
If your baby is lactose intolerant, choose a lactose-free, cow's milk protein-based formula. These products can also be useful in cases of acute enteritis, diarrhea, intestinal illnesses or Crohn's disease.
If your baby has a confirmed allergy to cow's milk protein or if he or she is at risk for developing such allergies because one or more family members have allergies, infant formulas containing protein hydrolyzates are the best option.
To make the best choice for your child, speak with your healthcare professional.
Pharmacy services
Do you have questions about breast milk or infant formulas? Speak with your family pharmacist for answers!