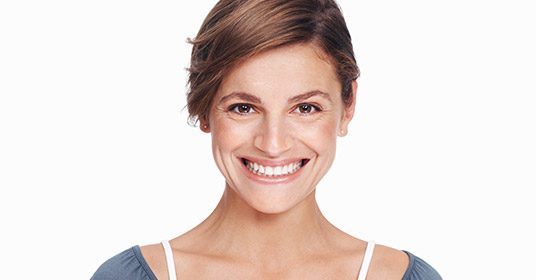 (Protégez-Vous in partnership with the Ordre des dentistes du Québec)
Would you like a brighter smile and whiter teeth? Here are some of the teeth whitening options available to you.
According to the Ordre des dentistes du Québec, anyone considering teeth whitening should first consult their dentist. Your dentist will start by cleaning your teeth and doing a full checkup to make sure you do not have any cavities or defective fillings. This checkup will also help determine why your teeth are not as white as they used to be. For example, teeth can sometimes look greyish due to antibiotics, such as tetracycline used to treat childhood illnesses or minocycline used to treat acne. Your dentist will know that this type of discoloration is more likely to resist teeth whitening treatments. If you are a good candidate for the procedure, he or she can recommend a product.
Here are the most common teeth whitening methods available.
At the dentist's
You can choose to have your teeth whitened at the dentist's office. Your dentist will isolate your teeth and protect your gums with a special gel or rubber mouthguard. The bleaching agent, usually a 30 to 35 percent hydrogen peroxide gel, will then be applied and left on for a few minutes.
The application is repeated three to four times during a session. The procedure lasts only 30 to 60 minutes. More than one session may be needed.
At home (under the care of your dentist)
You can also whiten your teeth at home using supplies and products provided by your dentist. In this case, your dentist will make you a custom-fitted tray designed to hold a small quantity of carbamide peroxide gel (about 10%) used to bleach teeth. The tray can be worn during the day or at night.
The treatment lasts approximately two weeks or longer to obtain desired results or when stains are more persistent.
With over-the-counter products
At the drugstore, you will find many over-the-counter teeth whitening products in different varieties (self-adhesive strips, brush-on products, kits with trays).
They contain the same active ingredient at the products used by your dentist, but generally in a lower concentration. Clinical studies have shown these products to be safe, as long as the instructions and warnings are carefully followed. Just remember never to use a product for more than 14 days without the supervision of a dentist.
Warnings
Teeth whitening products may cause certain side effects. Two out of three patients will develop tooth or gum sensitivity during the treatment. To limit the risk of side effects, consult your dentist before starting the procedure.
Pregnant or nursing women and children under 12 should not use teeth whitening products.
Did you know?
All toothpastes contain a gentle abrasive that helps remove superficial stains on teeth. "Whitening" toothpastes contain chemicals or abrasives that are slightly more effective at eliminating stains. But like whitening gum and mouthwash, they do not actually whiten teeth, but only remove surface stains.
To learn more:
Blanchiment des dents, Protégez-Vous May 2010
Effets sur la santé, Protégez-Vous June 2011
Promesses et résultats, Protégez-Vous June 2011