Cold and flu prevention: 7 helpful tips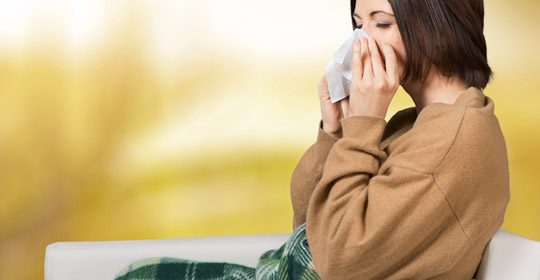 Once again this year, cold and flu season will soon come knocking at our door. We can never stress this enough: preventing infections is your best defence against illnesses of all kinds, from the most benign to the most unpleasant.
Cold and flu basics: Did you know?
There are close to 200 viruses that can cause the common cold, making it virtually impossible to develop a vaccine.
You never catch the same cold or flu twice. Each time you get a cold or the flu, it is always due to a different virus.
When someone sneezes, the virus is propelled into the air at a speed of 150 km/hr.
Once present on a surface, viruses can survive approximately 48 hours.
7 cold- and flu-busting strategies 
For the reasons mentioned above and to save yourself a lot of aches and pain associated with such viral illnesses, try using the following cold- and flu-fighting strategies.
Adopt a healthy lifestyle to support your immune system. This includes:

A healthy diet
Sufficient sleep
Quitting smoking
Moderate consumption of alcohol

Get your annual flu shot.
Wash your hands often.
Cough and sneeze into a tissue or your elbow.
Avoid touching your nose, mouth or eyes after contact with a contaminated surface or object.
Avoid contact with infected persons.
Stay home when you are sick.
Pharmacy services
Do you have questions about cold and flu prevention? Need symptom-relief tips that really work? Talk to your family pharmacist for valuable information and advice.
The pharmacy services presented in this section are offered by pharmacist owners who are affiliated with Uniprix. The pharmacists are solely responsible for the professional activities carried out during the practice of pharmacy. These services are offered in participating pharmacies only. Certain fees and conditions may apply.

* The information contained herein is provided for informational purposes only and is not intended to provide complete information on the subject matter or to replace the advice of a health professional. This information does not constitute medical consultation, diagnosis or opinion and should not be interpreted as such. Please consult your health care provider if you have any questions about your health, medications or treatment.