Giving birth is an extremely emotional experience. For some new moms, those initial tears of joy can turn into tears of sadness. Is it a case of the baby blues or postpartum depression?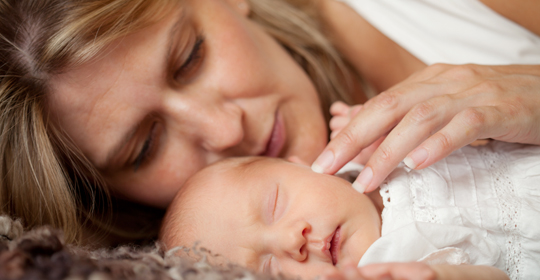 Baby blues
The baby blues refer to a temporary form of mild depression that occurs in up to 80 percent of new mothers and lasts anywhere from a few hours to a few weeks. Also known as the "postpartum blues," the baby blues usually start within three days of delivery.  
In addition to crying spells, women with the baby blues will experience these symptoms:
Moodiness and irritability
Anxiety
Feelings of vulnerability
Difficulty eating or sleeping
 
If the situation persists or worsens, it may be postpartum depression. 
Postpartum depression
More serious than the baby blues, postpartum depression can occur any time within one year of childbirth. Left untreated, it can compromise proper attachment – the emotional bond between mom and baby – and the baby's social and emotional development. Postpartum depression must be treated right away.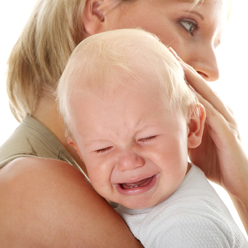 An estimated 20 percent of women may experience postpartum depression. Symptoms include:
Extreme sadness 
Irritability 
Anxiety and panic attacks 
Feelings of being a bad mom
Lack of interest in the baby 
Inability to make decisions
Exhaustion 
etc.
No one knows the exact causes of postpartum depression. Many factors can, however, be involved in its onset: 
Physiological causes (hormonal changes during and after pregnancy)
Psychological causes (stress about being a new mom, relationship issues, financial problems, etc.)
A difficult delivery
Personal or family history of depression or postpartum depression
etc.
It is completely wrong to think that women who develop postpartum depression are to blame for their condition.
Treatments
The baby blues resolve on their own. Of course, it is always a good idea for the new mom to ask friends and family for help so she can have time to rest and enjoy herself in order to recover more rapidly.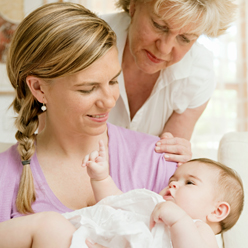 In addition to the above-mentioned advice, treatment for postpartum depression involves one or more of the following measures:
Individual or family counselling 
Assistance from support networks, family, friends and community services 
Medication
If you are breastfeeding, you may be concerned about using any therapeutic product, including prescription antidepressants, over-the-counter drugs or natural health products. It's a decision that should not be taken lightly. 
Some products can transfer into breast milk and be passed on to your baby, while others can be safely used. Please be sure to consult a health professional, such as your family pharmacist, before starting a new treatment or stopping an existing one. 
Pharmacy services 
Do you have questions about maternal health and baby care? Consult your family pharmacists. They are here for you.