Learn to create a healthy glow featuring a warm, expertly highlighted complexion, lush eyebrows, eyes enhanced with natural colours, satiny, well-defined lips and a dab of pink on the cheeks.
David Vincent
David Vincent, international makeup artist with Lise Watier, is actively involved in product development and trend research for the brand's makeup collections.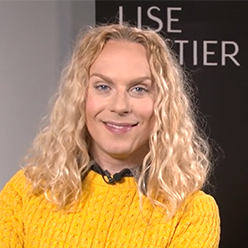 His creative inspiration brings us the popular nudes with a modern twist and a play on textures that adds depth, for a fresh makeup look just in time for spring.
The makeup look in four steps
Complexion. Start by warming up your complexion with a bronzing powder applied to the high points of your face.
Eyes. Refine your eyebrows with a product that has a tinted gel on one end to add volume and an illuminator stick on the other to add lift to the arch. Then, illuminate your eyelids with a neutral eyeshadow and add definition with a slightly darker shade.

To bring out your eyes in a subtle way, apply a dark shade of eyeshadow right along your upper lash line using a fine-tipped, angled brush. Complete your eye makeup with a coat of mascara.

Quick tip!
To hide signs of fatigue and brighten the eye area, apply eyeliner in a nude shade directly to the waterline. The results are immediate.
 
Lips. Draw the lip contour with a lip liner and add colour using a liquid lipstick for an intense, satiny finish.
Cheekbones. Apply blush at the very end to make sure you use the right quantity of product for a balanced finish.  
This look will instantly give you a healthy glow. Plus, it's suitable for all occasions and for women of all ages.
Pharmacy services
Feeling inspired? Drop by your local Uniprix! Your beauty consultant can help you find the products used by David Vincent.
Looking for more helpful health and beauty tips? Interested in receiving special offers? Click here and sign up for our newsletter today.