Inspired by the latest spring-summer makeup trends, Eddie Malter has created a very natural look with a beautiful luminous hit of blue.
This gem of a look features a flawless complexion, gorgeous cheeks highlighted with a hint of pink, full, well-defined brows, lips with a pinkish hue and eyes with a bright pop of blue, for results that are fresh, bold and trendy.
Eddie Malter
Eddie Malter, official makeup artist for L'Oréal Paris Canada, has earned an international reputation. His inspiration for this springtime look comes to us from the latest fashion shows and catwalks.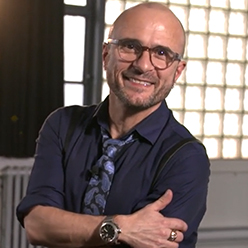 « This summer, makeup is still very natural. I like a strong brow and a hint of blue around the eyes. »
The look in five easy steps
The complexion, a focal point for spring and summer. Take the time to even out your complexion, apply concealer and add hints of light to your cheekbones.
Eyebrows. Define and brush them. You want full, structured, perfectly groomed brows.
Eyes. Enhance the entire look with a bright colour on the eyes. Like a ring set with a single jewel, adding just a hint of radiant, luminous blue will make a big statement.

Start by drawing the eye contour with a cobalt blue liner and set it with pearly blue eyeshadow. Sweep a coat of mascara over the top and bottom lashes.
 
Lips. For daytime wear, choose a natural, versatile shade. A delicate pinkish hue will add a natural touch! For the evening, you'll want to go for a bold red – it's still really popular this summer!
Cheeks. Finish by sweeping a hint of blush over your cheekbones for a perfectly balanced look.
There you have it! A trendy, fresh and natural look that's both radiant and minimalist!
Pharmacy services
Feeling inspired? Drop by your local Uniprix! Your beauty consultant can help you find the products used by Eddie Malter.
Looking for more helpful health and beauty tips? Interested in receiving special offers? Click here and sign up for our newsletter today.