What exactly is a sunburn? It's a burn to the skin caused by prolonged, unprotected exposure to the ultraviolet (UV) rays of the sun. While a sunburn and its associated discomfort may be temporary, the damage it causes can be permanent. Premature aging of the skin and skin cancer, both caused by UVA and UVB rays, are two examples that come to mind.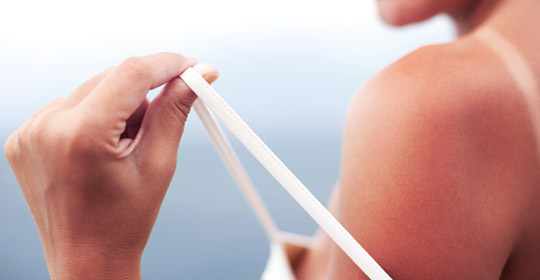 Here are the typical signs of a sunburn that develop after sun exposure:  
•    Red, hot skin that is sensitive to the touch (within 24 hours of exposure)
•    Blisters that appear in the days after
•    Peeling of the superficial layers of skin where the burn occurred 
You can also feel sick and develop a fever when you get sunburnt. 
Want to avoid all the discomfort caused by sunburns? Just follow these prevention measures: 
•    Limit your exposure to the sun, especially between 11 a.m. and 4 p.m. 
•    Seek out shade.
•    Wear a hat and clothing that covers as much of your body as possible.
•    Apply a good quality sunscreen that provides complete protection (from UVA and UVB rays) and has an SPF of at least 30: 
o    Use a generous amount (2 tbsp for the whole body, every application). 
o    Reapply on a regular basis (every 2 hours or more if perspiring heavily or swimming).
•    Don't forget heavily exposed body parts, such as the nose, lips, ears and the back of the neck.
•    Wear sunglasses.
If, like most of us, you enjoy having a sun-kissed glow, remember that there are excellent self-tanning products that will give you a beautiful tan without all the disadvantages and harmful effects of sun exposure.
…than sorry!
There are no miracle cures to heal a sunburn. Only time will make it better. Here are a few tips to alleviate symptoms and promote healing.
•    In the days following a sunburn, avoid the sun.
•    Drink plenty of water. 
•    Moisturize your skin well. There are many body milks, creams and balms in the dermo-cosmetics lines of products to ease the pain and burning sensation associated with a sunburn, while deeply moisturizing skin. Look for the term "after-sun"  on the product label.
•    For more severe sunburns, go to the first aid aisle of your pharmacy, or better yet, ask your family pharmacist for advice. There are many over-the-counter products to ease sunburn symptoms, speed healing or prevent infection. Aloe vera gel is a popular choice for sunburns since it has soothing properties.
•    If you experience pain, you may want to take acetaminophen or ibuprofen. Ask your pharmacist to help you choose the best product for you. 
Note too that a visit to the doctor's office may be necessary in the case of sunstroke or severe sunburn (second-degree burn).
Pharmacy services
To learn more about the sun protection or after-sun products that are right for you, talk to your Uniprix beauty consultant! 
If you do get a sunburn, you can always consult your family pharmacist for expert advice.