Choosing your colouring with care
 Okay, so you've finally made up your mind: you're going to colour your hair at home. Wait a second! Do you know which colour to select? A shade of blond or brunette or maybe you want to go redhead? Before you go and buy your tubes, just a few questions will help you make smart decisions… 
Hair colouring 101: knowing the lingo 
Before getting into specifics, have a look at this handy little list of terms…. because specialized language can sometimes be confusing. 
Colour chart
A sampling of the range of colours 
A sampling of the range of colours In hair colouring, the colour 'chart' is actually a series of synthetic hair samples with various codes: shade (colour level) + intensity (primary and secondary tones). 
Shades
Colour levels
The levels go from black to brown to light platinum blond.
Tones 
Lightening effects with greater or lesser intensity
These create dimension and bring a certain vibrancy to your hair look depending on the intensity selected.
Now, let's move on to the all important quiz...
Question 1 – Is my hair damaged?
Is that a yes? Then, choose professional products, without ammonia or PPD (paraphenylenediamine), irritants and allergenic ingredients. You could, for example, decide on the Seliar Synergy Color  line from Echosline, a brand exclusive to Uniprix. Seliar was designed specifically for people with a sensitive scalp and weak or damaged hair. 
Otherwise, Echosline  hair colourings will suit you well. They are made of plant-based ingredients (beeswax, flaxseed, vitamin C…) and provide exceptional coverage. 
Question 2 – What colour is my hair now? 
Before choosing a product, you need to know the colour of your hair, whether it's natural or not since that will, of course, affect the final result. To determine your present colour, use the Echosline colour chart available in store. Don't ever trust the colours you see on the screen. All the units are scaled individually.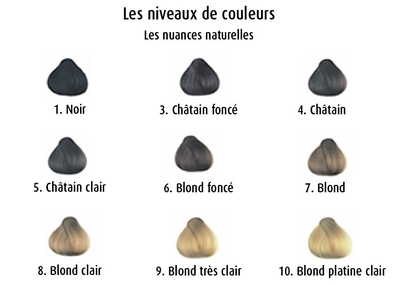 The Echosline colour chart is composed of 10 natural shades,  from black (1) to platinum blond (10). You can find your colour by comparing your hair to the various samples.
Question 3 – What colour can I choose?
Opt for a colour that is one or two tones lighter or darker than your present colour. Avoid making radical changes. For example, if you have black hair, you can't change it to platinum blond… without bleaching it.
Your new colour  may have highlights. There are several kinds: intense, violet, blue, beige, ash, iridescent, gold, copper, mahogany and red. 
Winning combinations
Brown hair: red, mahogany highlights
Blond hair: golden highlights
Red hair: golden highlights
Black hair: bluish highlights
Need help in choosing? Ask your beauty consultant. She can help you decide. 
Question 4 – What is my skin colour?
For a natural look that is eye catching, you should choose a colour that goes with your skin tone. It should, in other words, be in slight contrast with your skin. For example, if you have a pale or pink beige complexion, go more for soft colours and cool shades like blond or light chestnut.1 
If your complexion is dusky or has a yellowish tinge, select warm shades (golden, red or orange tones). If your skin is dark, then go for an intense brown or even a deep black. 
And if your face is dusted with freckles, look more at red shades. You'll get excellent results!
Question 5 – What is my eye colour?
 Oh, yes ! You have to think about the colour of your eyes when you make your selection… Red is perfect for those who have blue or green eyes. Dark colours also are well suited to blue, because your eyes are fully highlighted. Have brown or chestnut-coloured eyes? Choose a chestnut brown hair colour for a  softer look.2  
Pharmacy services 
Need help choosing the best shade to highlight your present skin and eye colour? Speak with your beauty consultant. She can give you good advice.
Want to  take advantage of a whole range of other health and beauty related tips along with our exclusive offers? Subscribe today to our newsletter.
1  http://www.ellequebec.com/beaute/cheveux/article/comment-trouver-la-bonne-couleur-de-cheveux-en-fonction-de-sa-     carnation 
http://www.coupdepouce.com/style/coiffure/article/petit-guide-de-la-coloration-maison-reussie 
2 http://www.coupdepouce.com/style/coiffure/article/petit-guide-de-la-coloration-maison-reussie