What is soap?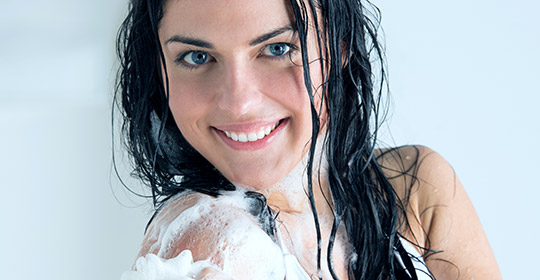 Soap is traditionally made from combining a fatty substance (e.g. animal tallow or vegetable oil) with sodium or potassium. This mix creates a chemical reaction that produces soap and glycerine.
Fatty substance + potassium or sodium = soap + glycerine
All soaps, whether natural or synthetic, are cleansers (also called "surfactants"), that rinse away skin's oily film (hydrolipidic barrier), along with any impurities. The glycerine in soap is a moisturizing agent that, to some extent, protects the skin's natural barrier.
Natural soap and common soap
Natural soaps, (which are entirely biodegradable unless they contain chemicals, such as preservatives) include the following:
Aleppo soap (made with olive oil and laurel oil)
Marseille soap (made with olive oil and sodium hydroxide)
Animal-based soap (usually made with beef tallow)
Natural, extra-emollient soap (fortified with rich oils)
As for the common soaps of today, they have generally been stripped of their glycerine, (which is recovered for commercial purposes), and, in some cases, even of their fatty substance, making them quite harsh for skin. This also explains why we can now find "soap-less" soap, containing petroleum-based surfactants. To summarize, modern soap usually contains:
 
Water + surfactant + dye + perfume
Shower gels
While they can be more gentle for skin than ordinary soap, many shower gels are made using additives and pollutants: dyes, preservatives, perfumes, fatty ingredients, moisturizers, and chelating agents, to name just a few. 
Yet there are now more and more shower gels that contain relatively fewer chemicals and boast some noteworthy properties. Some are:
infused with invigorating or soothing scents
moisturizing
exfoliating
enriched with glycerine or shea butter
specially formulated for sensitive skin
etc.  
Pharmacy services
Take the time to discover the wide selection of soaps and shower gels available in store and don't forget to read the labels! If you need advice, just talk to one of our sales clerks, pharmacists or beauty consultants, depending on the nature of your inquiry.