Once they reach 50, some women give up on using makeup, for fear of doing it wrong, while others try in vain to hide the passage of time under several layers of cream, powder and blush. In this article, learn how to enhance your natural beauty by selecting the best age-appropriate products. 
Makeup after 50: Selecting your allies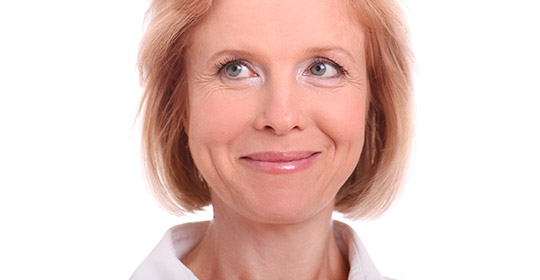 The best way to avoid making makeup mistakes is to choose the right products and apply them sparingly. For an absolutely radiant look, just follow these few beauty tips. 
Foundation
Your foe: Matte, high-coverage foundation. It reduces skin's luminosity and natural glow. What you want to avoid at all cost is applying a thick layer of foundation over the entire surface of your face. This draws attention to lines and wrinkles and produces a mask-like effect.
Your allies: A lightweight foundation that matches your skin tone to a tee and a liquid concealer (applied beneath the eye) to hide dark circles, redness and other flaws. 
Eyebrow arches 
Your foe: Sparse, poorly defined eyebrows. Eyebrows frame the face and highlight the eyes. Over time, after years of tweezing, they can become thinner. They then need to be filled in with a skilled hand.
Your ally: A powdered eyebrow shadow you apply with an angled brush.
Eye shadow
Your foes: Eye shadow in vivid shades and an iridescent finish swept over the entire lid. But no need to write them off completely; just use them in moderation. Your best bet is to apply vibrant colours to the centre of the lid and iridescent shadows just beneath the arch of your eyebrows.
Your ally: A palette of neutral shades (beige, taupe…) to balance the overall result.
Eyeliner and mascara
Your foes: A thick black line – it hardens the features – and Twiggy-style lashes with heavy mascara. Starting at 50, eyes need a lighter look. Just a thin coat of mascara on the upper lashes is enough. You should also avoid applying makeup beneath the eye, as this only makes them look heavier.
Your allies: A powdered shadow to be applied starting at the lash line using a moistened angled brush, a well-sharpened grey or brown eyeliner and a brown-black lengthening mascara.
Lip liner 
Your foes: Lip liner in a shade darker than your lipstick. Lip liner is an indispensable tool to keep lipstick from bleeding into lines and wrinkles. It must, however, be a neutral shade or a perfect match to your lipstick. Here's another tip: avoid dark colours (brown, burgundy…), since they tend to make teeth look yellow.
Your allies: A matte lip liner that matches your favourite lipstick, a light lip colour (sandy, coral, pink, nude) and a sheer lip gloss (to be applied to the centre of the lips for its light-enhancing effect). 
Pharmacy services 
Need help choosing the products that are right for you? Drop by one of our cosmetic counters. Our beauty consultants are there to answer all your questions. Some of our stores even offer makeup sessions. Ask about this option!