Beards have made a comeback in recent years, with many looks to choose from: five-o'clock shadow, three-day stubble, goatee, soul patch, balbo, short or long.  They require proper care. Let's learn more.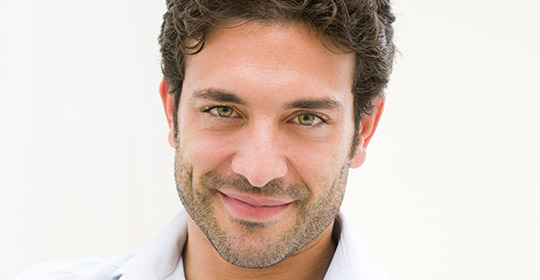 Shave and grooming care for your beard!
Learn how to groom it. Here's how:
Wash your beard as often as your hair. You can use a special shampoo for beards or just a gentle hair shampoo. You can also wash it with diluted anti-dandruff shampoo, depending on your needs.
Rinse and then rinse some more!
If necessary, apply conditioner.
Gently pat dry with a towel.
For a softer, more supple beard, apply a small quantity of beard oil.
End by running a keratin comb through it. Keratin adds shine. Comb it twice – once slowly, the second time more vigorously. Never comb your beard when it is damp, since facial hair is more fragile and breakable when wet.
How often should I trim my beard?
How often you trim your beard, depends on the style you've chosen. Generally speaking, it should be once or twice a week for longer beards and almost daily for shorter ones.
| | |
| --- | --- |
| To adjust the length of your beard and get a tidy outline at the lower neck, cheeks and around the mouth, you need the right tools, which means a good trimmer and a razor. When choosing a trimmer, here are options to consider: adjustable length setting, guard for optimal control and precision, laser guide for more accuracy and symmetry, etc. | |
Trim the length:
Adjust your trimmer to the maximum length setting and buzz your whole beard in the opposite direction of hair growth.
Go over it again, this time with the machine set on the desired length.
Define the contour:
For the lower neck, start one finger above the Adam's apple and shave everything beneath that imaginary line.
Tidy up the cheeks by following their natural shape or line up with the bottom of your sideburns to the edges of your moustache. Closely shave any hair above that line.
You can also shave around your lips (about 1 mm).
Quick Tips!
Your other half loves the look, but hates the scratchy feel? Let your beard grow to at least ½ cm (about a ¼ inch).
Your beard going red? It's genetic, so all you can do is use a colouring product. Ditto for a greying beard.
How to shave or mow my beard completely?
Looking for a new look? Want to get off the beard wagon for a while? No problem! Here are tips for a perfect shave.
Equipped with a shaving brush and hot water, apply shaving cream to your whole beard. Wait one minute and then shave once in the direction of hair growth, and a second time in the opposite direction.

 

To take the sting out of razor burn, run a moist alum stone over freshly shaved skin and apply a moisturizing balm followed by a hot towel to work the product in.
Pharmacy services
Uniprix has all the shaving supplies and beard and moustache care products you'll need. If you would like help making the right choice, just ask our beauty consultants.