Ombré hair is one of the hottest trends in hair colour right now. The dip-dyed style (two tones, top half dark, bottom half light) previously popular among A-listers is slowly fading, giving way to softer, more natural ombré hair.  Here are the steps involved in pulling off the look, right in the comfort of your own home.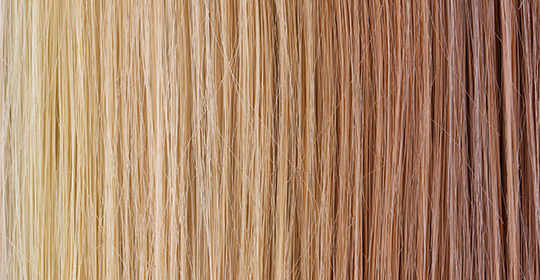 Getting started
To start, you need to make sure your natural hair colour (e.g. hair at the roots and top of your head) matches up well with the lighter shade you choose for your ombré effect. Here are suggestions from our expert colorists:  
 
For brown hair, go for shades of auburn.
For light brown hair, choose blonde.  
For blonde hair, opt for a lighter blonde.

To create the look at home, you can use either professional hair colouring products by Echosline or Synergy Color Seliàr, available only at Uniprix, or a DIY kit from one of the big brands in hair colour.

Whether you choose professional products or a kit, you will need to:
 
Determine where you want your ombré effect to start – at your ear, chin or shoulders, depending on the length of your hair.
Part your hair the way you normally wear it.
Drape a towel over your shoulders to protect your skin and clothing.
Make sure your hair is dry, unwashed and completely free of tangles.
 
Getting the look with professional products
Products to use
For lightening: You will need a package of Echosline Bleaching Powder for Lightening and Streaks and Echosline 20 volume Stabilized Hydrogen Peroxide Cream.
 
For colouring, you must use a product from the same line.  So, choose one of these two options:
A tube of Echosline Colouring Cream in the selected shade – which can be up to three shades lighter than your current hair colour – combined with Echosline 10 volume Stabilized Hydrogen Peroxide Cream.
OR
A tube of Synergy Color Seliàr in the selected shade – which can be up to three shades lighter than your current hair colour – combined with the Seliàr Synergy Cream Activator 10 volume.
 
Technique
First, you need gloves, a non-metal mixing bowl and a brush. Then, follow these steps:

1. Lightening the lower lengths
In the plastic bowl, combine 1 package of bleaching powder with 45 ml of 20 volume stabilized hydrogen peroxide cream and use the brush to mix until smooth.
Part hair into three sections and pin each one using a non-metal hair clip.
Apply the mixture, section by section, starting from the ends and gently working your way up to where you want the ombré to start. To avoid creating a harsh line, do not use the flat side of the brush. Use the side of the brush for a more natural end result.
Wait 15 minutes, then, using a wet towel, wipe off any excess product moving downward. This will help tone down the bleaching action and give you the graduated effect you want.
Leave in another 30 minutes, but check your hair during this time. Proceed to the last step as soon as you get the desired results, even if the 30 minutes are not up.  
Lightly shampoo your hair, rinse well and remove excess water.
2. Applying the selected shade – Thoroughly clean the mixing bowl and brush between these steps.
In the plastic bowl, combine 1 part (50 ml) colouring cream in the selected shade with 2 parts (100 ml) of 10 volume peroxide and use the brush to mix until smooth.
Start applying the mixture approximately 2 cm above the fade line. Continue the application, working your way down, and cover the bleached portion well. Leave in 10 to 15 minutes.
3. After-Colour Hair Care
Wash hair with the Seliàr Nourishing Shampoo with Argan Oil and follow with the Seliàr Nourishing Mask with Argan Oil OR the Echosline S1 After-Colour Shampoo and the Echosline M1 After-Colour Mask.
Finish with the Split Ends Restructuring Keratin Treatment.

Note: You may need to double the quantities if you have long or thick hair.
 
Getting the look with a kit
You'll find a variety of ombré hair colouring kits on the market right now. Some let you get the effect in a single step (colouring only), while others require you to bleach, then colour.

In either case, remember to:
 
Follow the advice listed under "Getting started."
Respect the instructions on product mixing, application, wait time and after-colour care.

These all-in-one kits are a great way to get more comfortable with at-home hair colouring in general and the ombré technique in particular, by supplying you with everything you need for the job:
 
Products in pre-measured quantities
Mixing accessories
Application accessories (these vary by kit; some have brushes for larger chunks of hair, others, fingertip applicators for a more subtle ombré effect)
Detailed instructions
 
Pharmacy services
Questions? Talk to your Uniprix beauty consultant. She'll be more than happy to help.

Looking for more helpful health and beauty tips? Interested in receiving special offers? Click here and sign up for our newsletter today!