Fever in children is a warning sign that all is not right with their body. But a fever does not necessarily indicate that the situation is particularly serious or alarming. What should parents do if their child has a fever? When is it best to see a doctor?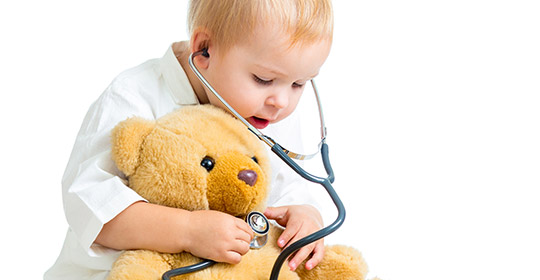 What exactly is fever?
Body temperature generally varies from 36.5°C to 38°C, depending on time of day. A child is considered to have a fever when he or she has a body temperature above:
38°C when taken rectally
37.5°C when taken orally
37.2°C when taken under the arm (axillary)
Fever is one of the body's defence mechanisms against viruses and bacteria. A rise in body temperature triggers immune and inflammatory responses to fight the attacking organism.
Good to know!
The degree of fever does not necessarily indicate the seriousness of the illness.
Rectal measurement of body temperature is recommended for children under 5 and oral measurement for those over 5.
Taking temperature by ear does not provide an accurate reading in babies under 6 months and, as a general rule, is not recommended for children 2 years of age and younger.
The use of mercury thermometers is to be avoided.
What to do when a child has a fever?
When children have a fever, here are a few things you can do:  
Set the room temperature at 20-21°C.
Get them to rest.
Dress them lightly.
Make sure they drink plenty of water.
If the fever persists, and if your child is older than 4 months, you can give him or her acetaminophen every 4 to 6 hours. The appropriate dose should be calculated based on weight, not age. Your family pharmacist can help you determine that dose.
Acetaminophen is available in different forms, such as concentrated drops, liquids and dissolving tablets, with varying modes of administration based on a child' age. Some even come with a user-friendly dosage calculator to make it easier for parents to measure the exact dose, every time, without the mess!
Important!
Ibuprofen can be given to children starting at 6 months of age. Consult your pharmacist for the appropriate dose.
Acetaminophen and ibuprofen are effective for the relief of fever and pain (e.g. sore throat). However, cough and cold formulas containing multiple ingredients should not be administered to children under the age of 6.
NEVER GIVE acetylsalicylic acid (Aspirin) to a child under the age of 18.
When to see a doctor
You need to see a doctor in the following cases:
The child is under six months of age AND has a fever
The child is over six months of age AND has a temperature of 40°C or more
The fever has lasted more than 48 to 72 hours
The child's general condition deteriorates (very sleepy, sluggish)
Other symptoms develop (skin rash, headache, etc.)
Pharmacy services
Do you have more questions? Talk to your family pharmacist for expert advice and reliable information.